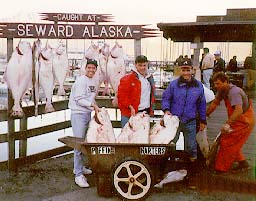 Rates
Halibut and Rockfish:
Full Day
May 1 to June 30— $145.00 per person
July 1 to Sept. 5— $170.00 per person
Salmon:
Half Day
July 1 to Sept. 5— $110.00 per person
Full Day
July 1 to Sept. 5— $160.00 per person
Whole Boat Rate:
$900.00 private custom charter per day.
Policies
Lodging /fishing packages available.
All rates do not include 5% city tax. A 50% deposit is required to confirm reservations. Payment in full is due day of departure. In case of inclement weather a full refund will be made available within two weeks. No deposit will be returned for concellations made less than 14 days prior to departure date.
How to Contact Us
Mail:
Puffin Family Charters
Capt. Leslie A. Pemberton
Box 90743 Anchorage, Alaska 99509
Phone:
1-907-278-3346
0r 1-800-978-3346
Email:
pfcfshon@alaska.net
What to Bring
To make the most of your fishing adventure, bring: Fishing license, food and beverages, camera, binoculars, raingear, warm clothes, waterproof boots, hat, gloves, and sunglasses.
Member
The Seward Charterboat Association
The Seward Chamber of Commerce Convention and Visitors Bureau
Links to Related Sites
Pudge Kleinkoff, womans flyfishing
Tichnik Lodge
Camelot cottages
Walkabout B & B
Alaska Adventures and Accomodations