FLYING TO ALASKA

By: Marty Baston
OK, lets give the typical disclaimer: This information is not meant to substitute your own research and planning. It is meant only as a guideline. Also, we are by no means experts on flying to Alaska. Many SWPC members have made this trip before and if you are flying up for the first time, you may want to hook up with one of them.
We will discuss preparing and planning for your flight to Alaska. We will discuss necessary charts, publications, plane preparations and other helpful hints that should be considered. This will be followed by a description of the flight route
The most important piece of advice we could give you on your flight up here is DON'T PUSH THE WEATHER. Do not plan just one route; make preparations for all routes as often weather dictates which way you go. Give yourself a lot of time and be prepared to wait out weather along the way. Members have made the trip in two days. Plan on at least seven days each way.
Canada has some different regulations than the United States. First, you are required to file a flight plan. All major airports have a flight service station on field and staff are extremely helpful. Tower controllers open and close flight plans for you. Again, it is amazing how accommodating and friendly Canadians are. Also, there are differences in regulations regarding VFR on top (this has recently changed) and airspace. The Canadian Supplement and other publications will brief you on these and other regulations. NavCanada will bill you a 15 dollar user fee per quarter.
WHAT TO BRING
Clothing: Be prepared for just about anything. Dress in layers and include rain-gear. Interior temperatures can approach 100 degrees; we have seen it snow in July. Alaska formal is a new pair of jeans; you will not look out of place however, well dressed in Anchorage. Casual is the norm throughout the state.
Money: Most places in Canada and Alaska accept credit cards. Some places only accept a particular card. Williston Lake Air in MacKenzie, for instance, only accepts Visa. We would, however, secure some Canadian cash. You never know when you may have to purchase a 5 gallon can of gas or buy a candy bar in a small store.
Survival Gear lists the survival equipment and supplies required by regulation to be carried in your aircraft when flying in Canada and Alaska. One of the most useful items that we have discovered for life in the north is a Leatherman. Many members would not consider flying without one on their belt.
Charts and Supplements: All charts and supplements can be purchased through Sporty's Pilot Shop and AOPA. Again, prepare for all routes as weather will dictate your path. The following is the minimum recommended materials for flying the route from Edmonton, Alberta to Anchorage. Your route from home base to Edmonton, or some other point along the Alaska Highway, will dictate any additional charts you may need.
Canadian Flight Supplement
Canadian VFR Navigation Charts

Edmonton (AIR 5015)
Prince George (AIR 5014)
Fort Nelson (AIR 5022)
Alaska Highway (AIR 5099)

Alaska Chart Supplement
Anchorage Sectional
Anchorage VFR Terminal Area Chart
Anchorage area airspace is very busy. There are special regulations that dictate routes to and from Merrill Field. Information on the Anchorage, Alaska Terminal Area is available on the web at www.alaska.faa.gov/ata/general.htm.
OTHER RECOMMENDED ITEMS
The Milepost is "The" guide of north country road travel. It will give you information about the communities, routes and other history of the Alaska Highway as well as all other north country routes.

The Alaska Airmen's Association Logbook contains extensive information on flying to and in Alaska. The book is currently being updated and is out of print. You may be able to locate previous editions. Alaska Airmen's Association can be contacted at (907) 245-1251.
AOPA has several publications available for members flying in Canada and Alaska.
TERRAIN
Although most of your flying will be through valleys and open taiga, if you have never flown in mountainous country, we highly recommend reading any of the many publications or watching the various videos on mountain flying.
NAVIGATION AIDS
Good VFR chart reading skills are necessary. VORs are few and far between. LORAN coverage in Northern Canada is spotty. GPS works well and is your best choice for radio navigation. There are several NDBs. Canada has one frequency for enroute flight service and that is 126.7; Monitor this frequency enroute.
PLANE PREPARATIONS
Obviously your plane needs to be in good mechanical condition. There are some sections of pretty desolate country where you will have no radio contact. Most major airports have mechanics available. Getting parts can sometimes be a challenge. we recommend you bring the minimum of tools and spare parts that you are comfortable with. Larger communities such as Whitehorse, Anchorage and Fairbanks are very aviation oriented and finding services and parts are usually easy. Merrill Field has several A&Ps and parts suppliers that can facilitate oil changes and any other maintenance once in Anchorage. Prices are very reasonable.
You do not need twelve inch tail numbers to fly through Canada as you are not crossing any ADIZ lines.
CUSTOMS
You will need to carry proof of citizenship ( birth certificate or passport) proof of identification (picture ID), pilots license, current medical, current registration, airworthiness certificate and proof of liability insurance that is in force in Canada.
Canada has created an efficient means of clearing customs called CANPASS. At your last United States stop, call (888) CANPASS (226-7277) and be prepared to furnish them your tail number, passengers names and nationality, port of entry airport that you will be landing at and ETA (your first Canadian landing must be at an official port of entry airport). Also, furnish your expected length of stay and any declarations you will need to make such as the survival weapon that Alaska requires. You will also be required to file a flight plan with US flight service. You can not use ADCUS on the flight plan for Canada. When you arrive at the POE airport you will immediately call CANPASS again and answer any of their questions. Normally, you will be given a number and told to have a wonderful time. Customs are required to randomly meet face to face with some aircraft although this has never happened to me.
Normally your last Canadian stop before arriving in Alaska is Whitehorse. Your port of entry airport is Northway. Northway Customs does have limited hours (usually 8 AM to 5 PM Monday-Friday). You are required to give notice of your ETA to US Customs. A minimum of one hour notice is required. Notification can be done by adding ADCUS to the comment section on your Canadian flight plan. Some do not trust this and recommend calling customs directly. While fueling in Whitehorse, call (907) 778-2223 or (907) 774-2252 to advise of your arrival time. If your arrival time is outside of normal hours they may charge a user fee. If there are any changes of more than 15 minutes in your arrival time you are required to update customs through flight service. Once in Northway, you will taxi to the marked customs area near the fuel pump. Do not leave your plane or begin pumping fuel until given permission by the customs agent. Often, especially after periods of bad weather, there can be quite a line of people that need cleared. The agent that normally works at Northway Airport is very efficient and friendly and he will get you on your way as quickly as possible. US Customs will require you to purchase a $25.00 decal if this is your first crossing this year. we suggest that you put the decal inside your door frame instead of on the outside of the plane.
NOTE: If you purchase any items that are made of fur or any animal parts, mail them home. Customs, both US and Canada, have very complicated rules regarding the transportation of these items.
THE ROUTE
We will begin the route description at Fort St. John (CYXJ).. Your point of entry into the route will depend on your origin.
Many who fly from East of the Rockies will pass through Edmonton and enter the route at Fort St. John or Fort Nelson.
For those flying from the West or Northwest via Prince George and Chetwynd you will enter the route at Dawson Creek (official start of the Alcan Highway) or Fort St. John. Those brave enough to fly the Trench or Cassiar route, will pick up this route at either Watson Lake or possibly Whitehorse.
Ft. Saint John (CYXJ) to Ft. Nelson (CYYE), 315 degrees, 167 nm
Radio: Contact Ft. Nelson radio 10 miles out on 122.2
VOR: Ft. Nelson 112.9 YYE, DME CH76
There are actually 3 choices for flying this section. One would be to follow the highway. Although it may be comforting to have the highway underneath you, the highway will take you back into the mountains and potential weather. A second alternative would be to follow the railroad. Although it avoids most terrain, it is much less than direct. Weather and nerves permitting, the preferred choice is to fly direct. The terrain is prairie until about 20 miles south of the Sikanni Chief River. At that point, terrain can rise gradually to about 3,500 ft. You will cross many oil fields and the railroad. The northern half of the direct route will have you in a little more desolate country, but it is an airway and traveled often. Ft.Nelson does have a VOR on 112.9 YYE. DME is available on CH76.
Ft. Nelson has two paved runways the longest being 6,400 ft. There could be two fuel vendors, ESSO and SkyNorth Av Fuels, on the ramp signaling you to their business.
Ft. Nelson has several hotels and restaurants in town. Camping is allowed on field.
Ft. Nelson (CYYE) to Watson Lake (CYQH), 268 degrees, 205 nm direct. Considerably longer by highway.
Radio: Contact Watson Lake radio 10 miles out at 122.1
VOR: Watson Lake 114.9 YQH, DME CH96
Again, there are a few variations of this route. The easiest is to fly direct right along the airway. This will keep you out of the mountains and in fairly mild terrain. However, the area lacks suitable emergency landing sites. Another option would be to follow the direct route approximately 60 nm to the Liard River. Then follow the river back to the highway at Liard River Hot Springs Provincial Park. From there, follow the highway and the river the remaining distance to Watson Lake.
The third route is to again follow the Alaska Highway. This will take you back into the Rocky Mountains and you will need to cross Summit Pass at 4,266 ft and an additional pass at 3,600 ft near Muncho Lake. Although the scenery is spectacular as the mountains to the south will rise to nearly 10,000 ft, weather can often pile up in the passes. An advantage is the emergency landing area provided by the highway.
To fly the highway you will leave Ft. Nelson and climb abruptly to 3,500 ft at Steamboat 40 miles west of town. Continue following the highway towards Summit Lake and fly through the 4,266 ft pass. Terrain is very steep here and quickly raises to 7,500 ft to the south. Continue following the road to the Toad River Airstrip about 90 miles west of Ft. Nelson. It is a 3,000 ft gravel strip that requires prior permission to land.
Continue following the highway through the Toad River Valley and through the 3,600 ft pass. Follow the road carefully using your charts and GPS map, if you have it. Mining roads lead into dead end valleys and many pilots have made wrong turns. Beyond the divide you will be over Muncho Lake which

is about 7 miles long. There is a rough lodge landing strip at the south end of the lake that is less than 2,000 ft long, but could be used in an emergency. Continue following the Lake and the Trout River that empties into the Liard River. You will cross over a large steel bridge. Just north of this bridge is the Liard River Hot Springs Provincial Park. From Liard River Hot Springs the terrain begins to flatten out. Continue following the highway into Watson Lake.
Watson Lake is located in a vast wide valley. The airport itself is located about 6 miles from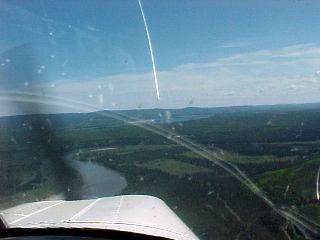 town. A Community Airport Radio Service (CARS) is located on field. Call them on 122.1 about 10 miles out and they will provide airport advisories and any other information. During one landing with gusty winds, the CARS operator was kind enough to call winds until I was on the ground. They will also close your flight plan for you and you may enter their office in the main terminal to check weather and file your next flight plan if necessary. Watson Lakes runway is 5500x150 paved. An FBO sells 100LL on field. He also has a soda machine and occasionally sandwiches available. There is a campground on field. The taxi ride into town is about $11.00 US each way. There are several hotels and restaurants in town. Watson Lake is also home to the Alaska Highway sign forest.
Watson Lake (CYQH) to Whitehorse (CYXY), approximate 194 nm
Radio: Contact Whitehorse tower 10 miles out at 118.3
Whitehorse ground 121.9
VOR: 116.6 YXY (not on field), DME CH 113.
First Leg - Watson Lake (CYQH) to Pine Lake (FY5), 242 degrees, 63.4 nm
You will follow the highway from Watson Lake to the valley of the Rancho Ria River. The valley is wide and the highway is easy to follow. The valley will slowly rise to a small pass that is 3.300 ft high. Just north of this pass is a 6,000 ft gravel strip, Pine Lake. This pass marks the divide between waters that flow into the Arctic Ocean and the Pacific. This pass is occasionally windy and has frequent rain showers. Should you choose to land at Pine Lake again make sure previous arrangements are made with flight service as communications are not available. Also be very cautions of horses grazing on the runway. There is superb camping along the river.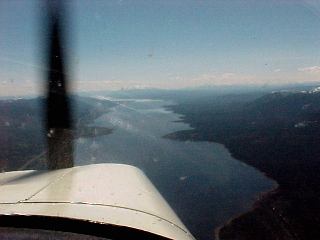 Second Leg - Pine Lake (FY5) to Teslin (CYZW), 247 degrees, 54.6 nm
Beyond Pine Lake you will follow the highway into the valley of Swift River. You will pass several lakes along this stretch. The valley continues to be wide and the highway easy to follow. About 20 miles out from Teslin, you will begin to see the 70 mile long Teslin Lake.
Teslin has a 5,500 ft gravel runway. A CARS flight service station is available on 122.1. There is a phone at the airport and food and lodging is available in town. Occasionally fuel is available. Camping may be available; check with the CARS operator.
Teslin (CYZW) to Whitehorse (CYXY), 268 degrees, 76.2 nm
As you leave Teslin you will follow Teslin Lake an additional 25 miles. At the end of Teslin Lake, you will follow the highway as it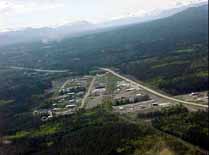 makes an abrupt turn southwest. You will travel through a cut in the mountains and a small 2,800 ft pass. As you exit the mountain area a road will branch to the south and the highway veers to the west. Follow the highway along the shores of Marsh Lake. Attempt to contact Whitehorse radio at 126.7 at the end of Marsh Lake for Whitehorse advisories. Contact Whitehorse tower on 118.3 about 10 miles out.
Whitehorse is a modern, large airport with jet service. Whitehorse's longest runway is 7,200 ft paved. Fuel is available and there is a flight service station in the terminal building. Whitehorse is the capitol of the Yukon Territory and has many restaurants, hotels and attractions. You may want to spend some time here. The Shell fuel vendor has sleeping rooms available at a very reasonable rate in their building. These rooms tend to go quickly, so you may want to call and make reservations.
Whitehorse (CYXY) to Northway (PAOR), 254nm
Radio: Northway radio 123.6, call 10 miles out. If you need to update Customs arrival times call radio on 122.2.
VOR: 116.3 ORT
Flying from Whitehorse into Northway, Alaska you will follow many valleys. The Saint Elias Mountains will tower to the south and the Ruby Mountains to the North. You will come within 60 miles of the second highest peak in North America, Mt. Logan, at 19,850 ft. This area is subjected to pretty extreme weather due to its proximity (70 miles) from the Pacific Ocean. Several canyons can feed winds that exceed 100 knots from the Pacific. You can often fly well below the mountain tops and be shielded from these winds; however be very cautious of side canyon drafts.
Before you leave Whitehorse, be sure that United States Customs are advised of your arrival time. Please see the general information section for further information on Customs procedures.
Leg One - Whitehorse (CYXY) to Haines Junction (CYHT), 246 degrees, 73.1 nm
You will continue to follow the highway through a wide valley first along the Takhini River. Approximately 40 miles later the highway will swing more westwardly and parallel the Dezadeash River. Haines Junction has a 5,500 ft gravel runway. No fuel service is available. There is food and lodging available in town. Haines Junction is an incredibly beautiful community. A highway runs from here south into the Southeastern Alaska community of Haines.
Leg Two - Haines Junction (CYHT) to Beaver Creek (CYXQ), 289 degrees, 136 nm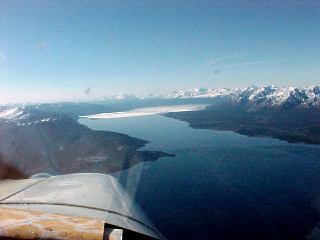 At Haines Junction the highway abruptly turns more northerly and continues up the valley to Kluane Lake. Kluane Lake is notorious for high winds. Be sure your weather briefing included current conditions at Burwash Landing. You will continue flying along Kluane Lake, the largest lake in the Yukon Territory. You will fly over Burwash Landing (CYDB). A CARS flight service station is located here and you can get weather updates from them on 122.1. Burwash does have a 6,000 ft gravel runway and there is food and lodging available in town. Beyond Kluane Lake you will continue flying what is called the Shakwak Trench. The valley is wide and you would have no problems turning around should you need to. Approximately 40 miles out of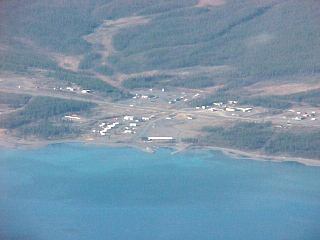 Beaver Creek the trench will begin to widen and the land to open up. Beaver Creek (CYXQ) has a 3,700 ft gravel runway. A CARS flight service station is available at 122.1. A small resort type community is located a few miles from the airport.
Leg Three - Beaver Creek (CYXQ) to Northway (PAOR), 290 degrees, 44.3 nm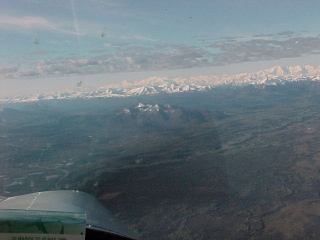 As you leave Beaver Creek, the land opens to the broad wetlands of the Chisana and Tanana Rivers. The easiest route would be to fly direct. Terrain is very flat, the highest hill being at 3,390 ft. The highway does not actually go to Northway. If you choose to follow the highway you will have to turn towards Northway at Northway Junction. You will cross into Alaska 10 miles out of Beaver Creek. WELCOME!
Northway has a 5,130 ft paved runway. Flight service is located on field. You will pull up toward the fuel pumps and see a sign that says Customs. Wait there for the Customs officer.
100LL and auto fuel are available on field. Due to the price of av gas here, the auto fuel, should you have the STC, is a nice alternative. A restaurant and hotel is available on field.
Northway (PAOR) to Merrill Field, Anchorage (PAMR), 249nm direct, 276nm following highway.
Merrill Field ATIS 123.7, Tower 126.0, Ground 121.7, Flight Service 122.2.
This last portion of your trip will take you through the Alaska Range, the Copper River Basin, then through the Chugach Mountains into the Anchorage Bowl. It is an incredible scenic flight, with many wildlife viewing opportunities. You will be traveling through three distinct climatic zones: the interior, Copper River Basin and the coastal areas around Anchorage. Again, get good weather information.
Weather permitting, from Northway you can climb to 8500 ft and fly directly over the mountains to Gulkana (PAGK). You will fly a heading of 217 degrees for 109 nm. However, weather usually requires us to fly lower and to follow the highway.
First Leg - Northway (PAOR) to Tok Junction (6K8), 280 degrees, 35.6nm
As you leave Northway, you will continue a westerly direction over the Tanana River Valley. If you desire, you can re-join the highway and follow it into Tok. There is little terrain to stop you from flying direct however. JUST EAST OF TOK THERE IS A LORAN STATION AND OTHER RADIO TOWERS! THE TOWERS ARE 700 FEET AGL (2357 MSL)! They have strobes that can be seen several miles away even during daylight. There are three airports near each other in Tok. Position reports on 122.8, should you be landing at Tok Junction, are important.
Tok is the gateway community to Alaska for highway travelers. There are numerous tourist attractions and the airport is near downtown. Tok Junction's runway is 2510 by 50 paved. 100 LL is available. Tiedowns and a camping area are available. This is another place where you might want to spend an extra day.
Second Leg - Tok Junction (6K8) to Duffy's Tavern (Slana) (PADT), 188 degrees, 44.8nm
You will leave Tok Junction and follow a highway south into the Alaska Range. Should you have continued following the Alaska Highway west, you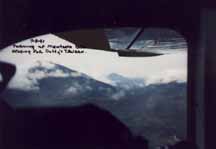 would have ended up in Fairbanks. Should you desire to fly to Fairbanks, please be sure to pick up information about the special use airspace along the route.
You will follow the highway and climb into Mentasta Pass 35 nm southwest of Tok Junction. The pass elevation is 2434 ft MSL. Mountains to either side are 6000 ft. Just follow the highway. Duffy's Tavern marks leaving the Alaska Range.
Third Leg - Duffy's Tavern (PADT) to Gulkana (PAGK), 204 degrees, 55mn
You are now in the Copper River Basin. This a broad, flat land surrounded by the Alaska Range, the Chugach Mountains and the Talkeetna Mountains. You may fly direct or follow the highway. There are a few small strips along the route and the highway makes a good emergency landing strip.
Gulkana airport serves the Glenallen area. The Alaska Oil Pipeline transverses the area. Gulkana runway is 4200 ft by 100 paved. There are instrument approaches and 100LL is available. CTAF is 122.9 and an RCO to Kenai FSS is available on 122.2.
Fourth Leg - Gulkana (PAGK) to Eureka (AZK), 229 degrees, 50.1nm
From Gulkana you will continue following the highway over numerous lakes and rivers (The highway makes a right turn in Glennallen. Should you go straight, you would end up in Valdez). Eureka marks the entrance to Tahneta Pass. Eureka's runway is 2400 ft by 60 gravel and can be rough. There is an AWOS available at 134.95. A restaurant is across the street from the airport. Eureka is the highest elevation airport in Alaska at 3289 ft.
Fifth Leg - Eureka (AZK) to Sheep Mountain (SMU), 206 degrees, 12.2 nm
You are now inside Tahneta Pass. The highest point of the pass is 3300 ft. The pass is actually an active fault that separates the Chugach Mountains on your left and the Talkeetna Mountains on your right. Views to the left will include numerous glaciers. Around Sheep Mountain itself, watch the mountains to your right for Dall sheep. Sheep Mountain's runway is 2270 ft by 60 gravel and can be rough. The lodge, within walking distance, has a small restaurant with very good food.
Sixth Leg - Sheep Mountain (SMU) to Palmer (PAAQ), 229 degrees, 47.1 nm
You are continuing to follow the highway through Tahneta Pass and the Matanuska River. As you exit the pass you will see the Matanuska Valley and Cook Inlet in the distance. This is a good time to solicit the aid of your passengers to look for other aircraft. The Cook Inlet area around Anchorage has some of the busiest airspace there is.
Palmer airport is a large facility. Its longest runway is 6000 ft by 100 paved. Fuel and mechanic facilities are available. A flight service station is available on field at 122.4. Should you choose to land, contact Palmer radio at 123.6 ten miles out.
Seventh Leg - Palmer (PAAQ) to Merrill Field Anchorage (PAMR), 199 degrees, 31.6 nm
This will be a very busy leg of the flight. Watch out for other aircraft! Special airspace regulations control how people fly in and out of the Anchorage area. Furthermore, there is restricted airspace just off of the highway you will be following. You must understand FAR Part 93 as it applies to the Anchorage, Alaska Terminal Area and Merrill Field. Web site, www.alaska.faa.gov/ata/general.htm, provides the latest information on the Terminal Area.
Copies of the regulations and approach and departure diagrams can be picked up at the Northway FSS. We will describe one of the easiest ways into Merrill Field. You must follow the directions precisely to stay out of the restricted airspace. This route brings you along side the Chugach Mountains. Should we be receiving a southeasterly flow you will be on the downwind side of the mountains and turbulence can be strong. Should this be the case, consult with the Terminal Area information and choose another approach that will keep you away from the mountains.
From Palmer, follow the highway on the left hand side. You will be between the highway and the mountains. Right out of Palmer, to your left you will see a large river valley and a glacier. This is the Knik River and glacier and is an excellent side trip (I live up here). Monitor and give position information on 122.7 should you choose to make this side trip.
Continue flying between the mountains and highway south of Knik River. You will see Birchwood Airport on your right. Full services are available at Birchwood. This is a GA reliever airport for the Anchorage area. Just south, on the right side of the airport, restricted airspace begins. If you remain between the highway and the mountains you will stay clear of this airspace. This would be a good time to tune into Merrill Field ATIS on 123.7. Continue south and you will then be over the community of Eagle River. At this point call Merrill Tower at 126.0 and advise that you are over Eagle River with the ATIS code for landing. Normally you will be landing on 24 straight in. They will advise you to notify when you are over Muldoon.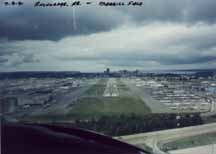 Continue following along the left side of the highway. The highway will turn westerly near a golf course. Follow the highway through the turn and you will see the airport and runway 24 straight ahead. The first major intersection road is Muldoon. Advise tower when you cross this road.
Do not be afraid to let the tower controllers know that this is the first time into the area. They have radar and if you are transponder equipped they will guide you in. The field is very busy. At times ten or more aircraft can be in the pattern using multiple runways. The tower may divide their workload over two frequencies. Despite their workload they are incredibly efficient and helpful. Knowing the Terminal Area and studying the diagrams and charts will make things easier for all. Merrill Field's longest runway is 4000 ft by 100 paved. All services are available. Except maybe for an EAA flyin, you will never see so many tail draggers in one place.
When off the runway advise ground on 121.7 that you desire to park in the special convention parking area. If needed, ask for taxi instructions.
YOU MADE IT!! Welcome to Anchorage and 2001 Alaska Odyssey. People will be on hand in the parking area to help you park and provide information.
*********
Ralph's Comments - After reading the above article and while preparing for a Buckeye Chapter presentation on flying to Alaska, Ralph Gutowski sent us an email with the following:
I loaded the entire route from Ohio to Anchorage into my GPS (I got a new Garmin GPS 295 color unit at the Lakeland convention) and discovered a few airport identifiers are different in the Jepp database now from what you have published on your web site (which is EXTREMELY helpful - THANKS!). Thought I would pass along the changes to you in case you want to show both sets of identifiers on the web site. Mainly, the Sheep Mountain identifier is no longer SMU, but rather PASP in the database. And I find that Duffy's Tavern is not in the database at all, so I just use the coordinates for the town of Slana, which IS in my database (N62 deg 42' 06.2" by W143 deg 59' 52.1"). FYI, the current identifiers along the Alaskan Highway route are:
CYDQ - Dawson Creek, BC
CYXJ - Ft. St. John, BC
CYYE - Ft. Nelson, BC
CYQH - Watson Lake, YT
CFY5 - Pine Lake, YT
CYZW - Teslin, YT
CYXY - Whitehorse Int'l, YT
CYHT - Haines Junction, YT
CYXQ - Beaver Creek, YT
PAOR - Northway, AK
6K8 - Tok Junction
Slana (Duffy's Tavern)
PAGK - Gulkana
PAZK - Skelton / Eureka
PASP - Sheep Mountain (formerly SMU)
PAAQ - Palmer
PAMR - Merrill Field
Right now, our route from OH takes us via Aurora and Rockford, IL, Minneapolis, Grand Forks / Minot, ND, then enter Canada at Regina, SK, on to Edmonton and Grand Prairie, Alberta, and pick up the Alcan highway at Dawson Creek. From my home base it is only a mere 3,262 statute miles and at an average speed of 100 mph will take 32 hrs and 36 minutes and consume a mere 293.5 US gallons at 9 gph.
My best to all!
Ralph
For what it is worth, Ralph and flying buddy, Tom Anderson, passed along the following information on Canadian Charts.
VIP Pilot Center in Canada will sell Canadian charts for $11.95 Canadian which is $8.00 US. The Flight supplement is $22.95 Canadian which is $15.36. The VIP Pilot Center phone number is 1-800-361-1696.