SERIOUS FISHING OR RESTFUL RETREAT!
Seasons and Fee Schedule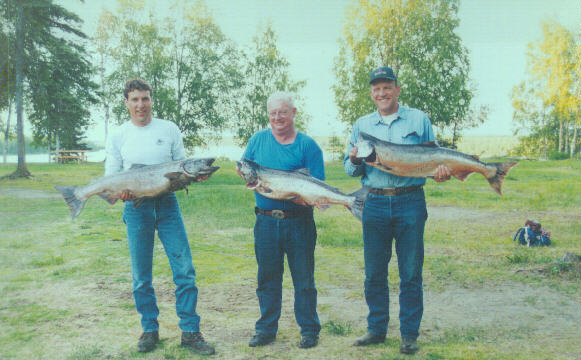 Elton Arensman and his friends have visited the lodge for King Salmon fishing every two years since 1986.
They generally number 12 to 15 guys and rent the entire lodge for a week to themselves.
[See the "Rent-a-resort" information.]
1999 FEE SCHEDULE
KING SALMON SEASON
$200 per day/per person
$325 per day/per person fully guided
May 23 - June 14
SILVER SALMON SEASON
$195 per day/per person
$300 per day/per person Fully Guided (3 day minimum)
July 18 - Aug 16
RAINBOW TROUT or PIKE FISHING
SIGHTSEEING, PHOTOGRAPHY
$160 per day/per person
June 15 - July 17
& Aug 17 - Sept 7
NEW! Skiers, snowmachiners, Aurora watchers
WINTER WEEKEND RETREAT
Saturday/Sunday Cabin rentals
(Sunday morning breakfast included!)
$70 per person
December 26 - April 4
weekends only
(Advance reservations required)
All fees are based on 2 - 4 guests per cabin.
(Taxes and gratuities not included)

SUMMER PACKAGES INCLUDE:
Cozy cabin accommodations, first-class meals, fishing boat, motor and gear, vacuum packing, freezer storage, friendly service.

ADDITIONAL SERVICES AVAILABLE:
Fishing licenses sold on site, transportation to/from lodge can be scheduled,
flight seeing and boat tours can be arranged.
Many custom packages available - just ask!

RESERVATIONS:
A 50% deposit is required for confirmed reservations; Balance due 30 days prior to arrival.
50% of deposit refundable for cancellations at least 30 days before arrival.
Rates are subject to change without notice, but they will not affect any reservation already confirmed.
Guests have the responsibility to disclose any special or limiting medical or physical conditions.

LIMITS OF LIABILITY:
Deshka Silver-King Lodge reserves the right to alter any itinerary as conditions require, and it cannot be held responsible for expenses incurred due to delays or cancellations as a result of weather, transportation or acts of God. Deshka Silver-King Lodge will not be liable for any loss, damage or injury to person or property due to accidents, fire, theft or other circumstances beyond their control. Deshka Silver-King Lodge cannot be held responsible for emergency regulation changes or closures enacted by the Alaska Department of Fish & Game.
---
CALL OR E-MAIL NOW FOR RESERVATIONS!
For information or reservations for the Deshka Silver-King Lodge please call or write:
Bill and Susan Jarvis (907) 733-2055 Toll Free (800) 928-2055 E-mail: info@deshkalodge.com
P.O. Box 870910 Wasilla, AK 99687