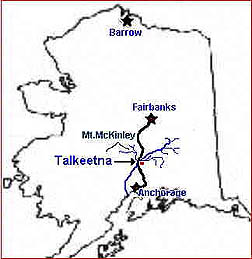 Talkeetna is located at the confluence of the Susitna, Talkeetna, and Chulitna Rivers in Southcentral Alaska. Located 114 miles north of Anchorage and 270 miles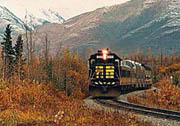 south of Fairbanks, you can easily reach us by road, rail, or chartered air service. For those driving from Anchorage, take the Glenn Highway north to Route 3/Parks Highway intersection and follow the George Parks Highway toward Fairbanks and Denali National Park. Continue on the Parks Highway to the Talkeetna Spur Road at Mile 99; turn right and travel 14 miles to beautiful downtown Talkeetna.
The Alaska Railroad provides rail service from both Fairbanks and Anchorage. There are also van services which provide ground transportation from Anchorage or Fairbanks. Renting a vehicle is still by far the most common method of getting to Talkeetna.

Once in Talkeetna, you will find Denali Anglers just south of the second railroad crossing on the right. This is mile 14 of the Talkeetna Spur Rd. This is also the turn-off to access the airport and boat launch. It is an easy 5 minute walk into Talkeetna from our office.
Talkeetna itself is a historical mining/railroad town with a population of about 350 people. Besides its world famous fishing, Talkeetna is internationally recognized as the central hub for Mt. McKinley climbing expeditions. It is nestled beside a dynamic expanse of wilderness which comprises the south side of Denali National Park, as well as Denali State Park. Surrounded by more than a million acres of pristine mountains, lakes and rivers, Talkeetna enables visitors to experience Denali's rich bounty of scenery and wildlife and a multitude of outdoor recreational activities.
The summer season gives families and individuals of all ages a variety of activities to choose from. World class sport fishing, flightseeing, scenic river tours, hiking, history tours, raft tours and multi-day whitewater rafting trips. The downtown area also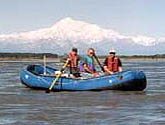 includes multiple museums restaurants and gift shops.
In the winter guests can enjoy the slower pace of Talkeetna. Winter activities include nordic skiing or snowshoeing on our local trails, dog mushing, snowmobiling, and our favorite "relaxing". Talkeetna looks out over the Susitna River and the majestic Alaska Range so the view of the beautiful winter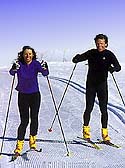 sunrises and sunsets is hard to beat. This is also the best time to catch a glimpse of the aurora borealis (northern lights) that sometimes dance across the winter skies.
Talkeetna is an ideal destination for outdoor enthusiasts of all interests and experience levels.
Chad Valentine's Denali Anglers
P.O. Box 77
Talkeetna, Alaska 99676
(907)733-1505
For reservations please click below.

Home | Fishing | Lodging | Tours | Calendar | Map/Directions | Rates | Links | Alaska Dept. of Fish Game