Accommodations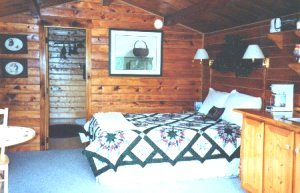 Charming Cottage
one queen size bed
kitchenette with microwave and refrigerator
mountain and Matanuska Glacier views
large private bath
Private deck with Matanuska Glacier View
Stroll down the natural walking path which brings you to the door of this charming private cottage. Located across the yard from our host home, guests have complete privacy for their coming and going at any hour of the day or night!
Awake in the morning to spectacular views of the Matanuska Glacier and the uniquely shaped Lions Head Mountain without getting out of bed! All wood interior makes for a relaxing spot to unwind after a long day, or to set the mood for a romantic evening! Sip hot coffee or tea at the table as you enjoy the beautiful mountain view, or if you're lucky, observe a moose that may happen to stroll by. Dry floral wreaths adorn the walls, and homemade quilts and accessories are lovingly placed throughout the cottage...just awaiting your arrival!

Private Suite
two bedrooms
one queen size bed, two twins
complete kitchen
mountain and Matanuska Glacier views
private bath (exclusive to your party)
second story unit (requires use of stairs)
Let us help carry your luggage to your room! We wouldn't want you to miss the gorgeous Matanuska Glacier view seen from the doorstep! Enjoy the breathtaking mountain views from every window or watch the dall sheep from the large picture window.
Constructed in 1996 with your privacy in mind, the suite offers a comfortable resting spot for families, or couples traveling together. Bright, clean bedrooms with cozy comforters are warmly decorated with accents of Alaskan wild flowers and berries. Take advantage of the full kitchen, or if you lose track of time on that afternoon hike, dine out at one of the local restaurants.
2005 Rates:
Method of Payment:

$90 - $125
Plus 5% bed tax
$15 per additional guest

Travelers Cheque
personal check
money order or cash
Visa and Mastercard accepted

Cancellation Policy:

50% deposit of first night's lodging, due at time of reservation.
Non-refundable if you cancel 7 days or less of your scheduled arrival date.

Located at Milepost 109.5 Glenn Highway, with your hosts:

Tundra Rose Guest Cottages
Highway Contract 3, Box 8484
Palmer, Alaska 99645
(907) 745-5865 or (800) 315-5865 in Alaska


info@tundrarosebnb.com
© Copyright 1998-2005, Tundra Rose Guest Cottages. All rights reserved.
The logos and names used in these pages are the property of their respective owners.