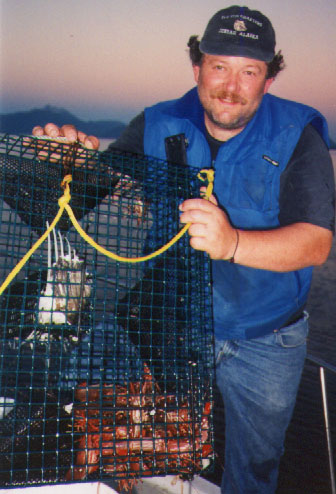 Two Day Charters

Left:One thing that makes our trips special is fresh crab and shrimp. Captain Lauren Burch holds a shrimp pot filled with lunch.

---
Two day trips will originate in Juneau during May and the first half of June to take advantage of the King Salmon run on the Taku River, and in September for the Coho run . Naturally, the range of possibilities increases by adding an additional day. As with all of our trips, we will determine the itinerary based on your interests and will run as long as 12 hours each day if you desire.
A favorite May trip leaves Juneau early on the first morning, and we cruise about 90 minutes to a favorite King Salmon hideout. The day is spent fishing and sightseeing towards Taku Harbor. At Taku Harbor, fresh dungeness crab grace a salad as a King Salmon hits the barbeque. We would spend the night at a dock, and stretch our legs on shore . The second day would be spent working our way back to Juneau. We will see majestic eagles, seals, sea lions, humpback whales and porpoises. With a little luck, we may see a black bear and orcas. If your purpose had been to bring something home, you would get to the airport with a cooler full of salmon and crab, some great pictures or video to share with your friends.
A typical mid-June through August two day trip would start with a three hour cruise to exceptional salmon and halibut fishing along the west coast of Admiralty Island. As we move closer to the open ocean, we encounter more eagles, whales, porpoises, seals and sea lions, and are much more likely to see orcas. We have three excellent choices for harbors for the night, two have crab and available docks, and one has shrimp! Dinner decisions get more complicated as you decide between barbequed salmon, baked halibut, several varieties of crab and shrimp. You decide and we will catch it. Be sure to have an empty cooler in your luggage if want to bring some fish home. The area is full of quiet, deserted beaches and shoreline if you like to explore, and offers some of the best whale watching anywhere.
A typical September trip targets Coho Salmon. Each individual can keep six each day, with twelve in possesion. These salmon run between about eight and fifteen pounds. Expect lots of action!

Fishing Photos