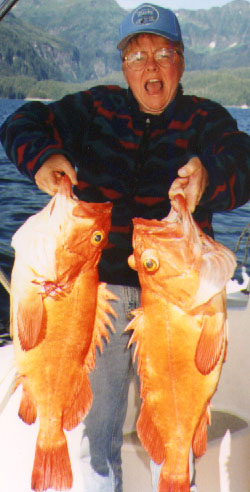 Three Day Charters
---
Three day trips can originate and end in Juneau. However, a popular option is to fly, or ferry one or both ways to get further from town and see more sights. This is a pretty fun way to see Alaska, and is a favorite of our return customers. The ferry can be as cheap as $20.00 and a flight can be as cheap as $45.00. The opportunity to see breathtaking scenery, take some pictures and even see whales, glaciers and wilderness from the air is well worth it. One restriction on these small planes will be on the weight of your baggage. The additional cost is about 35 cents a pound after 50 pounds. While the cost is not prohibitive, you probably need less than you think. A change of clothes, rubber boots if you want to go ashore, and an empty cooler for the fish you want to take home are the essentials.
If small planes and ferries seem like too much excitement, our three day trips can run pretty similar to the two day adventures, covering the same water and sights. We would reach a little further from Juneau and stay in different places each night.
Our Tenakee option is best suited to people wanting to relax, see the sights, soak in a hot springs, and spend more time cruising and watching wildlife and spectacular scenery. You would take a 45 minute flight to Tenakee on a float plane. Tenakee is a very simple and charming place. There are no roads, or vehicles larger than a golf cart. The ferry comes once a week and the plane stops everyday. That is about as exciting as it gets. There are some nice hiking trails, friendly people and the Tenakee Hot Springs, which serves as the community bath house. Separate hours for men and women assure your privacy. From Tenakee on that first day, we would cruise the Inlet and depending upon your interests, fish, catch crab or shrimp and watch for brown bears, sea lions, seals, eagles and whales.
We would start towards Juneau on the second day, catching halibut and salmon as we traveled, while enjoying close encounters with whales and maybe a few orcas. Our second night would be spent anchored in a secure harbor. Perhaps we would try salmon or halibut barbequed on the back of the boat. The third day would provide excellent opportunities for salmon and some of the best whale watching available as we work our way back to Juneau.
Our Hoonah option is best suited to serious fishermen. This trip carries us through some of the finest halibut and salmon waters available. This trip begins with a direct flight or ferry ride to Hoonah from Juneau. Hoonah is a small fishing village about fifty miles from Juneau. As with the Tenakee trip, we pay for the flight and will have made all arrangements from the Juneau Airport to our boat in Hoonah. Brown bears are plentiful around Hoonah. After viewing a few bears, and seeing the local sights we would set out for the open water. Halibut and salmon are abundant. On virtually every trip we catch halibut over 100 pounds,with occasional halibut over 200 pounds. You can keep four halibut and twelve coho (silver)salmon. We would spend the first night at a dock at Excursion Inlet, where dinner would be the catch of the day. An operating fish cannery is pretty interesting and black bears are abundant.
The second day would be spent working our way to Swanson Harbor and another dock for the night. Beachcombing is possible here. Showing off your catch or relaxing on the dock and meeting other boaters from all over the world tend to be favorite activities. The third day would take us back to Juneau. What we see, what we do, and where we go, is entirely up to you.

Fishing Photos