Welcome to Fishing with Valhalla Charters.
Fish within the awesome scenic beauty and biological diversity of Prince William Sound and Gulf of Alaska.
Owner and Captain Skip Blandford has 30 years of seagoing experience, 25 years licensed to charter in Prince William Sound. He knows his business.
The F/V HEIMDALL, a comfortable 33' Bounty Sport fisher, with a range of 250 miles, is powered by a diesel engine. It's equipped with a spacious heated cabin, head, and galley facilities, the very latest in navigational and safety equipment, and top notch fishing gear. It will comfortably transport up to 6 fisherman and will get you to the fishing hole quickly.
Fishing Seasons: Winter King fishing trips will commence mid April. Silver Salmon Trips will start in early July and end on Labor Day. We do not fish for halibut.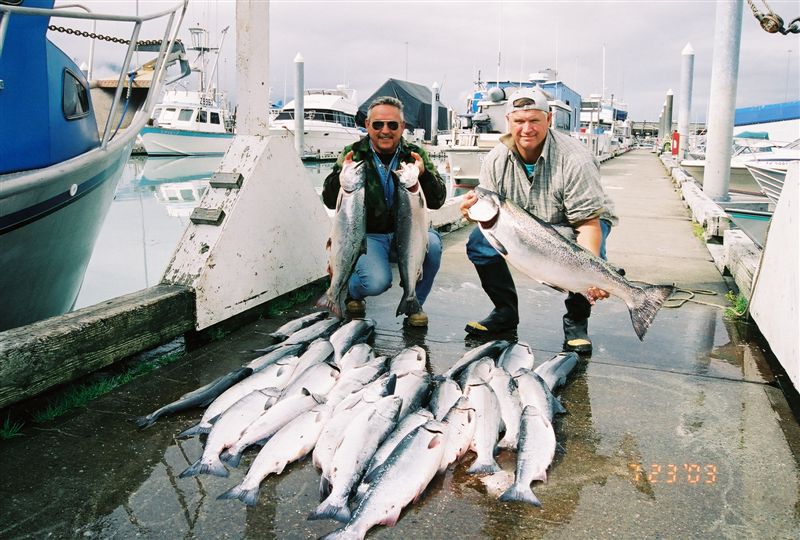 FISHING: Half day (5.5 hours) $135 per person (3 person minimum) or full day (12 hours) $240.00 per person (4 person minimum). Departure times 6:30 a.m. and 1:00 p.m. from slip J-13, Valdez Harbor.

SIGHTSEEING: At any time during the season, sightseeing may be combined with a fishing trip. A special full day trip, which we like to call our "Salmon Tour", consists of about 4-5 hours of sightseeing and we spend the rest of the day fishing. This trip has been well received by our many visitors from "Outside".

An exclusive sightseeing trip may also be arranged and charged at the water taxi rate..

WATER TAXI: $125 per hour - dock to dock, 3 hour minimum. $60 per hour standby time


A 10% discount is offered to senior citizens (age 65+), members of the Military, and their dependents. These discounts apply to individual fishing rates only, not hourly water taxi rates. (Appropriate I.D. will be required.) Non-fishing adults or children may travel along on a fishing trip, on a "space available" basis, for 1/2 full fare. In this context, "space available" means that no reservations have been received for a full fare paying fisherman, and boat minimums must be met.



Coffee, soft drinks and all necessary fishing gear are provided. Please bring warm clothing and appropriate footwear (rain gear if warranted), your lunch and camera. Appropriate fishing licenses are required but not sold aboard. No alcoholic beverages please. Smoking is discouraged inside the cabin.


For reservations or more information drop us a line!

Reservations will be confirmed upon receipt of a deposit consisting of 1/2 full fare. Cancellations will be refunded if received 48 hours prior to scheduled departure time or if the trip is cancelled by the Captain.
Payment by

/

is acceptable with advance notification.
Valhalla Charters
P.O. Box 789
Valdez, AK 99686

907-835-2073