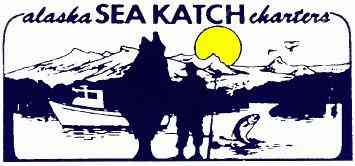 Welcome to Alaska Sea Katch Charters, my name is Jim VanDer Sanden, I have been taking people fishing for over 20 years out of Homer, Alaska. Homer is located at the end of the Kenai Peninsula and is a scenic 4 hour drive from Anchorage. I own and operate my own fishing vessel the SEAKATCH. Alaska Sea Katch Charters provides a top quality HALIBUT fishing experience for beginners and veterans alike.
We start fishing for halibut the middle of April and continue through Labor Day. We take a maximum of six clients per boat, for a full day of Halibut fishing.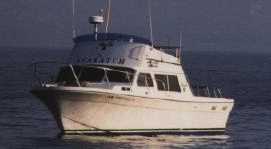 The F/V SEAKATCH is a 30' twin engine cabin cruiser with a speed of 24 knots. With the SeaKatch being faster than many boats, you will spend more time fishing and less time sitting. The Sea Katch has a heated cabin for your comfort and a private standup rest room for your privacy. It has all the modern electronics, including radar for those foggy days. We leave from a harbor where you walk onto the boat and not from the beach, where you can get wet and cold.
More derby fish have been caught on the
SEAKATCH than any other boat.
We provide all your bait and fishing tackle. We pride ourselves on providing the most up to date fishing gear for you to use. You will need to bring a lunch (or let us arrange one for you). At the end of the day we will clean your fish for you at no extra charge. We have excellent fish packing and freezing services available in Homer. They will vacuum seal your cleaned catch and freeze it then ship to you if you desire. You should also bring rain gear (so it won't rain). If you are from a warmer climate, you will want a warm jacket, you can always take it off as the fishing gets hot.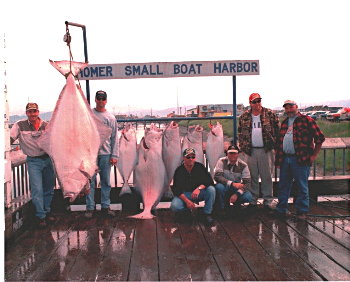 (Click on image for the full story!!!!)

LET US CUSTOMIZE YOUR ALASKAN FISHING EXPERIENCE FOR YOU:







Click on each of these pictures for the larger view and their story!! Then scroll below to book your fishing experience in Homer, Alaska with Alaska Sea Katch Charters

---
WE CAN ACCOMMODATE ANY SIZE GROUP
We are currently taking reservations for the 2002 Season
THE FOLLOWING ARE MY PACKAGES & PRICES FOR 2002:
1. The basic package is for a full day of fishing and is based on a per person
price. Prices start at $155 per person plus tax.

2. Our most popular package is our lodging and fishing package at an exceptionally low price, starting at $185 per person plus tax a day. This package includes lodging and a full day of fishing. We will be happy to accommodate you for additional nights of lodging at a fair price. We believe in working with our clients to make their fishing trip to the GREAT LAND an enjoyable and memorable experience. (use this link to see the Bed & Breakfast: Holland Days)
*This package is for a minimum of 2 people.
3. For groups not needing lodging, or just wanting to have the boat to
themselves, I have a whole boat price for a maximum of six people for
halibut fishing with no minimum number starting at just $830 !
4. THE GREAT DEAL FOR 2002!!! 3 nights of lodging and 2 days of fishing for $415 per person plus tax. Min 2 people. subject to space available.
With all fishing packages we supply fishing tackle, bait and fish cleaning.
---
IMPORTANT:
When booking a charter, I would like to suggest that you consider planning on fishing for more than one day, as we do at times have rough water conditions where we can not get out. I will not take you out or keep you out in extremely rough water conditions just to get your money, not caring whether you have a good time or catch fish.
We do not go out and insist that our clients keep the first two fish they catch so we can get back early. We care about our clients and work hard to provide a quality fishing trip and the opportunity to catch the fish of their dreams. Remember we live in Alaska year round so if we do not do a good job we hear about it from our community. We are also Coast Guard licensed.
/



I OFFER GREAT PRICES FOR A QUALITY FISHING EXPERIENCE IN ALASKA NO GIMMICKS OR COUPONS NEEDED. HONEST PRICES FOR HONEST PEOPLE! I WOULD BE DELIGHTED TO HAVE THE OPPORTUNITY TO TAKE YOU AND YOUR FRIENDS FISHING FOR A TRIP OF A LIFETIME AT AN AFFORDABLE AND FAIR PRICE WITH EXCELLENT GUIDES AND EQUIPMENT.


THANK YOU,
Capt.

---
Alaska Sea Katch Charters
To Book a Charter Call The Captain at
Or Follow the links below to book and get information to plan your trip.
Write: Captain
Homer, Alaska 99603
You can request information through this form:NAME:
EMAIL:
Comments:
Or send Email to:

keith3@yahoo.com

Alaska's Kenai Peninsula Resource Network
---
LINKS TO GREAT SITES
Holland Days Bed and Breakfast
A great Bed and Breakfast that we also use for our clients!


/Homer/ Halibut/ Charter/ Alaska/ Fishing/ Lodging/ B&B/ Salmon/ Sports/ Halibut /Homer/ Halibut/ Charter/ Alaska/ /Homer/ Halibut/ Charter/ Alaska/ Fishing/