Oakley Woman's bad ride!
Well, okay: her OTHER bad ride! This is a woman who ordinarily takes to the road in a '67 Alfa Duetto (yeah, the REAL Duetto, not your cheese-nip fuel-injected '69-and-later faux Duetto); she has crossed the country with it (top down, stereo at 11) several times. You Alfisti who leave your cars all shiny and pristine in the garage cocoon are a bunch of weenies.
Oakley Woman rallies the Alfa---or just takes it for a road trip---when the event demands a certain wind-in-your-hair panache. But for more demanding rallies (think of snow, think of ice) and track racing, she drives this Most Excellent example of Saab engineering: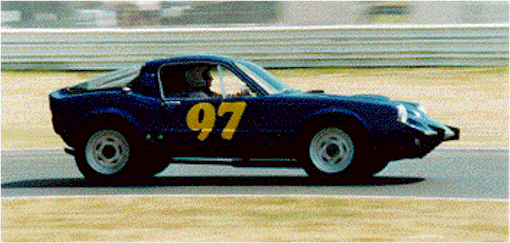 ---
Model: 1968 Saab Sonett II V-4
Engine: Ford V-4, 1500 cc, Solex carburetion
Transmission: Four-speed synchro; originally column shift, converted to Sonett III floor-mounted linkage
Exhaust: MotorSportSystems (Jack Lawrence) headers and headpipe; slow-taper megaphone available for whenever we can get away with it (sends chills down yer spine, amigo)
Wheels: 1970 magnesium "Cromodora"-style rims; standard steel Sonett 4-1/2" rims; Jackman 6" rims (aluminum)
Tires:
Street: 165-15 Hakkapeliitta Rollsters
Track: 185/70-15 BFG Comp T/A R1s
Winter Rally/Gravel: 165-15 Hakkapeliitta NR09s
Roll bar: Custom installation by ProtoFab Welding
Rally equipment: Halda Twinmaster, cable-driven from right rear wheel
Sound equipment: None
Performance history:
First overall, 1995 Monte Shelton North West Classic
First in class, fourth overall, 1995 Shell 4000 Retro Rally
Projected events:
1997 vintage racing season, Washington, Oregon, California
The Thunderbird Rally, a Canadian winter event in British Columbia
Targa Tasmania in. . . um. . . 1998? 1999? (well, one can dream, can one not?)

Other Saab stuff:
Hey, Saab junkies! Check out The Saab Network home page! Or SAAB USA ! Or the ultimate necessity for Saabophiliacs young and old (yuppie or vintage?), the Saab Club site! (Note: When I checked this link in mid-October, it couldn't find Our Boy Timmy. . . Oh! Wait! It's fixed! But it hasn't ben updated since September 13!)
---
Speaking of things Saabazoid, check out Rob Lodes' Turbo! page.
---
If you missed the convention at Lake Tahoe in 1996---who would pass up a chance to talk to Erik Carlsson? Are you mad?!---you might want to start planning ahead for the 1997 Saab convention. Someplace on the trapezial end of the right-hand coast, I believe. . . .
---
| | |
| --- | --- |
| If your interests, too, lie along vintage racing lines, tempered by wit and a certain congenital insouciant je ne sais quoi best described in sociopathology textbooks, you may well find a kindred brotherhood among the members of Age & Treachery Racing (one of the few social organizations that will have me. . . Wait! I take that back! There's always the International Association of Turtles. . . .) | |
---
The author is solely responsible for the contents of these pages and the opinions expressed herein. You may address suggestions, comments, and criticism to

Satch Carlson, PO Box 202967, Anchorage, AK 99520-2967 USA.