Welcome to
Sand Lake Bed & Breakfast
Where you can stay on Alaska's Sand Lake waterfront

Just 5 minutes from the Anchorage Airport.
Complete with float plane slip and paved boat docks!
---
Sand Lake Bed and Breakfast is a non-smoking home featuring a two story entry, formal living room with soaring ceilings, hardwood floors, tiled front and rear entry, and berber carpeting in the bedrooms.
We have three bedrooms available. The Canal Suite offers a jaccuzzi tub, sauna, and a view of the canal. The other two bedrooms are standard size and share a common bath.
The centrally located open kitchen leads to a back deck where you can enjoy the view of the canal, float planes and wildlife.
7801 Canal Street, Anchorage, Alaska 99502
Phone: (907) 248-4485 Fax: (907)248-4491
e-mail me at sandlake@alaska.net

---
click here for a larger map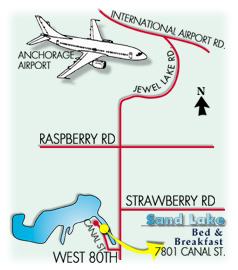 Click Here


This Page Has Been Accessed
Times since 9/10/98

This site maintained by Alaska Internet Marketing, Inc.
&nbsp
&nbsp
&nbsp
&nbsp
&nbsp
&nbsp
&nbsp
&nbsp
&nbsp
&nbsp
&nbsp
&nbsp
&nbsp
&nbsp
&nbsp
&nbsp
&nbsp
&nbsp
&nbsp
&nbsp
&nbsp
&nbsp
&nbsp
&nbsp
Alaska, AK, alaska, B & B, bed and breakfast, bed & breakfast, Anchorage, lodging, hotels, motels, places to stay, accommodations, home, sand lake b & b, Alaska, AK, alaska, B & B, bed and breakfast, bed & breakfast, Anchorage, lodging, hotels, motels, places to stay, accommodations, home, sand lake b & b, Alaska, AK, alaska, B & B, bed and breakfast, bed & breakfast, Anchorage, lodging, hotels, motels, places to stay, accommodations, home, sand lake b & b,