Home

35mm B&W

Minox B&W

35mm Color

35mm Macro

Hand Colored

Pinhole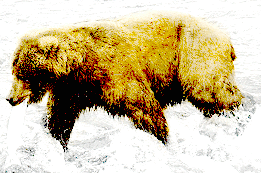 Katmai National Park, Alaska
The thrills, wonders, and joys that we encountered here could never have been anticipated, nor are they even describable. This was truly the trip of a lifetime and we would strongly recommend a vacation to Katmai to anybody. Though we had to save for a long time to afford our experiences, we were so busy enjoying ourselves that, for once during a vacation, we didn't stress out about money. We didn't even think about it. Several times we both remarked how relaxed we felt despite the near physical exhaustion from all the walking and hiking we did.


So here is our vacation of Summer, 1999. I wanted to put up some pictures and story text for family and friends to enjoy of our Katmai trip from June 26 through July 1, 1999, but the page is still incomplete. So far, only the best shots from three rolls of film have been put up here. I took about 17 rolls of film, including slide film.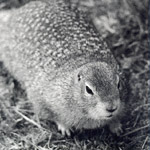 Oh, by the way...
If you see a photograph you like, just click on it to load the larger version (like "Earl" here to the right). And as of July 30, 1999, I don't have any slides posted. I need to grab ten or 12 of a few hundred and send them in to be scanned onto Kodak PhotoCD, which is the reason I shot slides to begin with, as I don't own a projector and probably never will.


If you send me email with a subject line that reads or contains "KATMAI UPDATE." This will make it easy for me to create a mailing list for Katmai updates. I will notify you when I put up my slides of bears and of the Valley of Ten Thousand Smokes.
---
Our trip started
...with the packing. Packing is nothing new to us. Both Mimi and I travel often for work and vacation. This is the first camping trip we've done together, though, and I thought Mimi was including way too much stuff. In a stressed and complaining tone, I suggested that she might as well just pack the vacuum cleaner! Both of us had two carry-on packs and two large checked pieces. One of them was a rather large cooler which Mimi filled up with some fresh fruit, and, Bless her sweet heart: she included a half rack of Miller Genuine Draft in cans surrouned by six or seven bottles of frozen water which kept everything ice cold for our entire trip. For that, I was so thankful that I told her not to worry, that if she wanted to bring the living room couch, I wouldn't mind.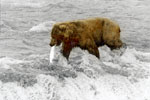 We met our friends Phyllis and Pam at the airport in Anchorage. We thought we were way overpacked until we saw their luggage. Now we thought all four of us were overpacked! We worried that we would exceed the maximum of 70lbs per person on the float-plane flight to Brooks Camp.

Off to King Salmon
Our flight to King Salmon was beautiful and uneventful, except they took my day-pack away from me before I boarded the small twin engine PenAir plane which seats two passengers per side. No problem, except it contained all of my camera equipment and lenses, and after the female agent's first attempt to accurately place the pack on the small conveyer belt for the short trip to the cargo belly, it immediately fell to the tarmac. No damage was ever discovered, but I was annoyed. If they are this careless about handling luggage in front of you, how about when you're not watching?


The main airport building at King Salmon is about the size of a large 7-11. Once inside, I was amazed at how busy it was. There were several tour operators holding up identifying signs. One was for Katmai Air, ours.


The fellow looked like a high school wrestler, but he was friendly and waited patiently for our luggage to show up in the small luggage shoot.


Before we knew it, we were all loaded up in a 20-year-old half-school-bus traveling down a dusty road toward the Katmai Air office with the door open.
Flight to Brooks Camp
Don, another pasenger on the 38 year old Otter float plane who we would later befriend, made the remark that it was interesting that all passengers aboard paid such perfectly close attention to the emergency procedures check list and speech given by the pilot before take off. During the descent, I imagined I was being lowered into a valley of fire-breathing dragons. I scanned the beaches of the lake looking for all the bears but I didn't see any. Landing on the almost glassy lake was the smoothest airplane landing I have ever experienced.
Orientation by Ranger Gregg
After getting off the Otter, we were told to proceed directly to the Ranger Station/Visitor's Center for a bear orientation. We were told how to act in the campground, trails, viewing platforms, and beach. We watched an interesting twenty minute National Park Service video about bear safety. All during the orientation and video, I looked around at all the bear posters and I sort of asked myself "Why am I here?"


After the video was over and Ranger Gregg made his parting comments, I felt like we were about to step off a helicopter into a hot zone of Vietnam in 1968. We exited out the back door and onto our first trail. We turned left to go to the lodge.
Seeing our First Bears
The first day we were at Brooks Camp we went to go pitch our tent and get settled in. We had to store all of our things in two separate outdoor "caches": a food cache, and a gear cache. They are both surrounded by an electric fence [I will put up a photo of it here] which made going to one of the caches an adventure in itself! Anyway, it didn't take us long before we headed up to the lower viewing platform. By the time we'd arrived, there was a sow and her two cubs walking along the river bank. I didn't yet break out my tripod or my 250/4 lens, but I had my 180/4 with some Astia 100 slide film loaded. [Yup, I have a few slides to put right here of those bears!]. We were told not to ever get within 50 yards of a single bear, or within 100 yards of multiple bears, including a mother and her young.
The Falls
The next day we ventured up to the falls. After walking along the regular trails and some roadway for almost half a mile from the campground, the trailhead is about a .6 mile trek through a dense section of forest. Walking along this trail was kind of spooky, not the least because of the fact that one of the world's largest land predators could show up at any time. I always thought "Lions, tigers, and bears! Oh my!" We would average two trips to the falls every day we were at Brooks Camp.


There were not many bears routinly showing up at the falls yet because of about a three week lag with the start of the season, and by showing up in late June, we were pushing it to begin with. The pay-off, of course, was that there were not many people there either, which I thought was quite nice. During the peak of the season, when the campground and lodge are full, there is usually a line to get to the viewing platform at the falls. People can only be on the platform for up to an hour before being asked to leave to make room for others. This didn't happen at all to us; we were able to stay as long as we wanted.


Several times at the falls the viewing platform was slightly crowded with folks watching one or two bears. It was interesting to hear all the shutters as the bear would change positions or catch a fish.


At another time, if one didn't know better, one would have thought one was at the 50-yard line of a pro football game: Lots of big lenses! I noticed how one guy with a Nikon F5 and HUGE lens (with Arca Swiss and Gitzo, of course) wore camouflage tape.


We never met any professional photographers!
Camping for two nights

I knew that the little store sold white gas for my small back-packing stove, so I walked in with stove in hand, opened the fuel tank, and handed it to the clerk. The clerk was about to say something when another camper tapped me on the shoulder and said that the campground has many bottles of gas, free for the taking. Since federal aviation regulations prohibit transporting the stuff on airplanes, campers are forced to leave plenty of fuel lying around.


After walking around Katmai all day, it was a very pleasant experience to find a cold beer in our cooler. And it is true what they say about food and drink tasting better when you're out in the wild. It did, and it wasn't two minutes before I finished my beer.


I had a lot more fun camping than Mimi did. I hadn't camped in a tent since I was a kid, and Mimi had never camped in her life. Rather than make camp too close the outhouses, storage caches, picnic tables, or other tents, we decided to grab space #14 which seemed acceptably remote from the other tents. Though I did wonder what the nights would be like sleeping on the perimeter of the grounds, right next to a small clearing which faces westerly toward the setting sun. If I were a curious and hungry Alaskan Brown Bear about to investigate a campground at night, it would through this clearing that I would enter, and of course this strange yellow tent borrowed from Dan that would receive my attention first.


Pitching the tent was easier than I thought it would be. We borrowed it from our friend Dan. Actually, we borrowed just about everything we needed to camp except my little backbacking stove.


Besides sleeping on a few humps in the ground and freezing in sleeping bags that were too small, we really did fine. The worst part of both nights was the occasional "snap" or "crunch" that I heard in the woods somewhere. Upon hearing these horrible sounds, I immediately sprung up and experienced a twenty minute episode of sheer terror.


The second night, at about midnight, I heard a sound, got up, looked out the window, and saw what I thought was a brown bear moving up and down, maybe cleaning itself (?) about 50 yards away in a little clearing. I froze. I played the scenes over and over again in my mind.


"How could the National Park Service and KatmaiLand (the concessionaire) ever allow me, Tony Rowlett, to be in such a horrible circumstance, about to be eaten at midnight by an Alaskan Brown Bear?"


I thought about waking Mimi, but after about ten minutes I realized I was just seeing things. It turned out to be a weed 20 yards away which was juxtaposed over a large BROWN stump which was about 40 yards away. The wind was making the weed move up and down.


The mind is a terrible thing.
More Mosquitos than Anything Else!
We took head nets with us thinking we really wouldn't need them because we would use "Off" insect repellant most of the time. Wrong. They were mostly essential to keep the millions of bugs, gnats, mosquitos, and fourteen kinds of flies off your face and neck.


The bugs weren't the worst I've seen in Alaska, though. I've been fishing before in various inland spots where you could clap your hands once and kill eight to ten mosquitos.
New Friends: Don and Chris from Boston
Don and Chris were a very nice couple of folks we met on the Otter coming into Brooks Camp. However nice Don was, however, it was his equipment that I noticed right off the bat: Canon 400/2.8 L Series II lens sitting on top of an Arca Swiss ball head.


Okay, okay, I know what you're going to say. But being from Fairbanks, Alaska, and having never lived anywhere else, seeing equipment like this is like a jungle native seeing a fully decked out Harley-Davidson for the first time. Ya just don't see this often in Alaska unless somebody brings it into the state on a vacation like this. Talk about equipment/lens envy. I never really desired auto focus until Don later showed me how fast he could focus from one subject to another. One time he focused on a bald eagle perched in a spruce tree across the river at the falls. He had his 2x on. The image in the viewfinder was a magazine cover. Before that I teased him about carrying around a rocket launcher. Now I don't question why.


I do admit that I would like autofocus for fast moving bears. Several times when I was in the frantic "snap-wind-snap" cycle of a bear walking toward us along the top of the falls, I forgot to follow-focus and lost about five frames to blurriness. I was too darned excited to remember to perform that simple but crucial task.


It was nice to see Don and Chris show up at a viewing platform or in the middle of a trail or at the large round fireplace in the lodge after a long day of thumping around in the wilderness. It gave me an opportunity to chat with a fellow photog. It was fun to ask if he'd gotten any bears with his rocket launcher, er, 400/2.8 lens. Every time I admired it he said "This? This is just a mid-life crisis!"


I thought Chris and he were married, but I was mistaken. I remember making a few remarks regarding her "letting him buy such a monster lens..." and now I feel a little embarassed. I think they understood.
[Other Incomplete Topics]
Cabin for three nights
For the last three nights we made arrangements to stay in one of the small cabins. After camping for only two nights, it was like staying in the Hilton.


The cabins have bunk beds to sleep four people quite comfortably. They have a shower and toilet that are separate from one another. Space and privacy is scarce, so the four of us would split up to take care of cleaning and things.


Phyllis woke me from a dead sleep at midnight one evening.


"Tony! Tony! Wake up! Get your camera! Wake Mimi up!"


Barely awake, I sprung from my bed thinking/dreaming that there was a problem of some kind. It turned out there was a huge bear walking through the developed portion of the camp. Phyllis first woke up to the clapping and firm voices of several other visitors leaving the bar in the lodge. They were gathered around the side of the lodge between the lodge and our cabin. They were trying to prompt him to leave by following the standard rules: Make as much noise as you can (and clap), talk to the bear firmly but non-aggressively, wave your arms to indicate large size, back up slowly and do not run. The four of us looked out the window and saw the them doing all these things just to the right. And to the left, him. He was a true monster. He walked within five feet of our cabin and along side it. We rushed to the front of the cabin and peered out the window. He stopped, looked both ways, and disappeared slowing into the bushes without a care in the world. I never was conscious enough to find my camera, but the memory of this critter being so close will always be with me. The next day I justified that it was the sort of image that is better kept in ones head.
Valley of Ten Thousand Smokes... This tour was so unique, mysterious, and stunningly beautiful that I feel my writing about it will only serve to diminish the grandeur of this region. The photographs that I will post here will do this scenery no due justice. Named God of Novaruptus... Lunch at the Emergency Ranger Cabin...should have quite a few good shots posted soon. The hike down the hill to the valley...very very nice. The hike back up the hill to the bus...very very very bad.

Buffet at the Lodge
While the food is edible, the food and service come nowhere close to justifying the expense - breakfast: $10; lunch: $12; and dinner: $22. The Mountain House freezed dried food we bought at REI in Anchorage was less bland and a much better deal. Culture walk: Semi-subterrainian hut
The Programs:
Beautiful slides taken by rangers!
"What is Wild about Katmai?"
"Bear Orientation" by cute young student who speaks Italian
More hikes to the falls
Black and White

The Lodge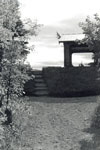 The Ranger Station/Vistor Center
No picture posted here yet.
Our Equipment and Film
I took my Leica M6 rangefinder camera and shot Kodak Tmax 400 (EI 400). In a little black leather fanny pack, I carried the 21/2.8, 35/2, and 50/2 with lens hoods, and a few rolls of film that I thought I would shoot during the day. It was perfect. For an SLR/Tripod combination, I brought my Leica R6 and a Gitzo Studex tripod with an old Linhoff ball head. For lenses, I had the 24/2.8, 50/2, 135/2.8, 180/4, and 250/4. For accessories, I brought a Leitz Elpro close-up attachement that will fit my 50/2, 135/2.8, and my 180/4. [Insert slide of picture taken of some small flowers with R 50/2 and Elpro] I also brought a 2X teleconverter so I could see what a 500/8 could do. Mimi brought our Konica Hexar with its built-in 35/2.


For film, I shot Fuji Astia 100 slide, Kodak E200 (pushed to 400), and Kodak Tmax p3200 pulled to 1600.


Mimi shot some 200 and 400 speed Kodak color print film in her Hexar.
Sad Flight to King Salmon
Leaving Brooks Camp just makes you sad. You know that feeling you get when you're on vacation and you're kind of aching to get back home again? Ya sort of need a vacation from being on vacation? Yeah, well, we didn't have that this time. We just didn't want to leave.


The beginning of the flight was nice. What's cool about float planes, even large ones that seat about ten people like our Otter, is that they take off almost immediately after the pilot throttles its engine.


I've never seen such beautiful country side as that of Alaska's.


The twenty-minute flight, however, turned into about an hour and a half because of the common low cloud ceiling over the King Salmon airport. This meant that approaching aircraft need to fly "IFR" (Instrument Flight Rules), which made it more dangerous for small planes because of lack of radar, etc. So we flew around for awhile. And awhile. And awhile.


Spending time staring into the cockpit, oohing and awing over the instruments, I noticed that a red light began blinking in front of the pilot. Using my 180/4 and SLR, I discovered that it said "Low Fuel Indicator."


Rats. I knew a vacation couldn't be so perfect!


The pilot eventually landed in a lake just outside of King Salmon. Screaming over the loud roar of the engine (we had to have ear plugs) he told us that he couldn't get a clearance to land for at least another half an hour, and that he was landing to conserve fuel. In the air, the Otter burns about 40 gallons per hour. Circling around in a lake for a half an hour wouldn't use a fraction of that. After about twenty minutes of circling around in one lake, we took off and landed in another. I suppose our pilot thought we were getting bored with seeing the same river bank 349 times. By the time we left the second lake, the fuel tank had only fumes, and the pilot forgot to switch the tank over to the next tank. When we were about 20 feet in the air, the engine started gasping, coughing, sputtering. The pilot tried to switch the tank over, but it was too late and we did to the lake what one brown bear liked to do in the river: pounce. Our terror only lasted for several seconds as he quickly got the plane restarted and in the air again. In spite of all that, the pilot definitely knew how to handle situations like these and my full trust remained with him. Even so, I was anxious to back to King Salmon.
Lost 21mm Viewfinder ($300+ item)
We he time we got to King Salmon, we got all our stuff, got on the bus, rode to the regular King Salmon airport, and found that we had missed our flight back to Anchorage, and that we'd have to wait for the next available flight which was two hours later. During the wait, I discovered that the little viewfinder for my 21/2.8 for my M6 had slipped out of the accessory shoe (the M6 has built in finder frames for the 28 up to the 135). This ruined my entire day as the item's list price is over $300. I could get a used one for $200 and some, but I was still frantic. I was sure it fell off in the road during the last time I used my M6 to take some snaps of the mall across the street from the airport. It has three stores in it, and one of those is a bank. Phyllis helped me look around in the road way, but by this time I was resolving that I had lost it for good. Expensive lesson, but I don't know what I learned. The thing fits snugly in the accessory shoe, so I don't know how it slipped off. With a back pack, fanny pack and some other things hanging over my shoulder as I grabbed my M6, maybe it was forced off. Or maybe it fell off in the plane.


Phyllis, about the wisest person I know, suggested that I go call the Katmai Air service (the folks who operate the Otter) to notify them that my item was lost and to please call if you find it.


"Okay, Mr. Rowlett, the plane's not in at the moment, but when it arrives we'll have a look and give you a call if we find it."
Flight to Anchorage
Completely uneventful, except that the scenery was beautiful. We flew across the North East coastal areas of the Alaska Peninsula, over islands and mountains. I knew it wouldn't be long before I was home again.
Found Viewfinder (whew)
A few days after settling back in Anchorage, I received a call from Katmai Air.


"We've found your expensive camera part and sent it to our office in Anchorage. Can you please come get it? Thank you."


Life is good.
---
Some random shots. Remember to click on the picture to show a larger version!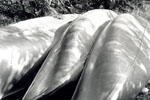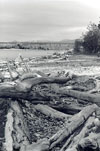 The following two shots were taken with the Leica R6 SLR camera with a 250/4 lens sitting on top of a Gitzo Studex tripod and old 1950(?) Linhof ball head. The film is Kodak Tmax P3200 shot at EI 1600 and developed for 7 minutes at 75F. The first shot was taken at half way between f/11 and f/8 at 1/1000 second. It is a portion of a 5x7 full frame print enlarged to 10x (see the grain?) and handcolored using Marshall's Photo Oils: Verona Brown mixed with a bit of Raw Sienna.
The second shot was taken with the Extender-R 2X teleconverter at 1/1000 of a second. Jumping to 500mm but losing two stops, I forgot what the actual stop was, but it was probably around f/5.6. It too was handcolored with Marshall's Photo Oils the same way.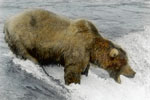 Some random bear shots. Remember to click on a shot to show the larger version of it!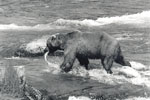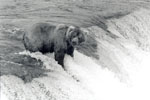 These next four prints (sequence of three of bear on bank of river, and then last one of bear hanging over falls) are 4x6 machine prints printed by PhotoWright Labs here in Anchorage. Leica R6 - 250/4 - 1/1000 second at more or less wide open because the film was a bit slower i.e. ISO 200