Hello! Welcome to Ron and Alison Horton's Home Page...
The RED MOOSE Company of Eagle River, Alaska

---
Web Site Index
This site best viewed with Netscape at 800x600 or 1024x768
Who are we? Click here to find out more about our branch of the Horton family tree.

Graphic images by The RED MOOSE Company! *** If I promised you a photo, you'll find it here. ***

Photos from Ron's 1996 trip to Peru.

BOOKMARKS from the Hortons! Lots of web links we find useful or interesting.

Seasonal interest page: Things we did and saw in Alaska this summer!

Ron's new job as a Boeing 747 pilot for Atlas Air!!!

---
FRIENDS of The RED MOOSE
Tracks of Alaska is Phil and Ilona Richey's photography outlet. (907) 333-8138

---
Who are we?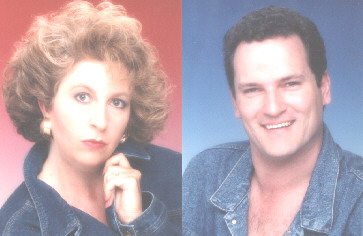 We are Alison and Ron Horton. We've lived in Alaska for five years, and plan to stay... we LOVE it! Ron is a recently retired USAF fighter pilot, now flying 747s for Atlas Air, and Alison is mom, homemaker, and boss. We originally created The RED MOOSE Company as a hobby, to share our wonder at this great land of Alaska with others around the world. The RED MOOSE Company is now only a hobby, but the wonders of Alaska are just too good not to share!. Our two children are capable 'net-izens as well. Click to see Melanie's or Tony's personal page.

---
Images like those on these pages are just a part of The RED MOOSE Company. In this venue, we do:
Photo or document scanning
Enhancement, correction, or modification of scanned images
Advertising brochures and business cards
Invitations, letterhead, stationery and greeting cards, especially with Alaskan or Arctic themes
Pictures-on-disk in nearly any format
Computer Training - Windows 3.1, Win95/98, MS Office, Word, Excel, WordPerfect, PhotoShop, etc'.
Custom Built Computers to your specifications!
Free estimates... just e-mail us with your ideas!

---
It is unbelievably easy to contact us... It only takes one mouse button click to SEND E-Mail to redmoose@alaska.net.

---
*WebSite design by Ron Horton *
Last updated Monday, December 27, 1999