Recommended Climbing Skills
As far as what we look in the climbers here is a small guideline: The experience requirements are not absolute (nothing in climbing really is), it all depends on the person, but here are a few generalizations of what we expect: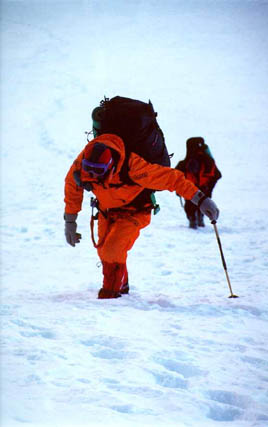 Everest - High altitude experience. Not necessarily an 8k meters peak, but something on the order of 6,000 meters (McKinley) to 7,000 meters (Aconcagua) will give you a good idea how your body reacts to altitude. I think this is much more important than climbing skill in itself, as the physical/mental condition make the biggest difference. Good winter mountaineering skills are strongly recommended as well as general climbing experience (crampons/ice axe). You will need to be in a top shape!
Broad Peak - High altitude experience is strongly recommended. Excellent physical condition and mountaineering experience. Basically same as Everest, but with a wider margin.
Makalu - Experienced mountaineers only. This is a very serious undertaking with technical climbing at altitude.
Ama Dablam - No high altitude experience necessary. It is mostly a rock climb up fixed lines, so some rock climbing ability really helps here. You will also need crampons for some of the snow/ice (the upper mountain) and mixed stretches, so experience with the use of these helps a lot. Of course you still need to be in an above average shape.
Pumori - It is mostly a snow/ice climb. You should feel fairly comfortable in crampons, as well as in snow and ice climbing techniques. It is quite a bit more serious undertaking than Ama Dablam.
Aconcagua - Although not technically difficult, Aconcagua still places great physical demands. I think being in a very good shape is definitelly a requirement, the amount of which is dependent on the person.
Additionally, I think it all depends on the individual. Some will require a lot of experience in order to feel comfortable, whereas others can pick up skills and adapt quickly.
Most important, however, is your experience at altitude. Therefore, a mountain excursion above 20,000 feet will give you a clue as to how you will respond to altitude. Additionally, it appears that the body acquires some sort of a "memory" that allows one to respond better to altitude the next time they find themselves in the thinner air.
Jacek Maselko, Guide

Patagonia Mountain Agency
Auke Bay, Alaska



Back to Patagonia Mountain Agency