"I haven't been on a fishing trip in 20 years- thanks for making this one of my best memories."
—Mary K., FL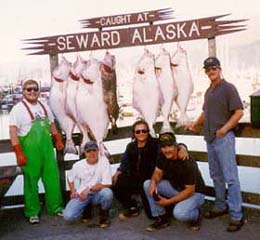 We fish for halibut from May 1 to Sept. 5. Have a great time fishing for halibut and/or rockfish in the most beautiful waterways Alaska has to offer. We request that our guests keep only the amount of fish that they and their families are able to eat through the winter so as not to waste this valuable resource. You're also welcome to catch and release.
We target halibut in the 25-80 pound range and try to avoid killing larger fish. Much bigger fish are the breeding females. We recommend and suggest that any larger fish be thrown back into the water. This is only a suggestion and not mandatory. Fish between 20 and 80 pounds are actually the best tasting. The limit of Halibut is two fish per person.
Lingcod is from July 1 to Sept. 5 with a limit of one per person outside of Resurrection Bay. There is dockside vacuum-packing and shipping. All trips include filleting of your catch. We generally leave at 7:00 am and are back to the dock by 4:30 pm.