Our Web-Counter says you are WEB Page visitor number:

Now come to beautiful Homer Alaska and visit...
THE SHOREBIRD GUEST HOUSE
On the Beach of Dramatic Kachemak Bay,
Homer, Alaska
---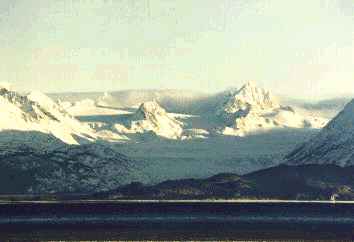 Welcome to Homer, where the land ends and the sea begins, on beautiful Kachemak Bay. Be prepared for a breathtaking view of wondrous tides, spectacular glaciers, and abundant bird and sea life. The guest house, three miles from downtown Homer, sits on the bluff overlooking the bay. There are stairs to access the beach for fishing, beach combing, and bird watching. Guests enjoy a large yard, beautiful gardens and the viewing of occasional seals and otters.
---
The Guest House is a self sufficient unit, clean and comfortable, and can accommodate six persons. It has bunk beds, a queen size hide-a bed, and a queen size bed. There is a bathroom with a shower and towels and linens are provided. The kitchen is completely furnished and ready for you to cook your catch of the day. It is an ideal place for families and children.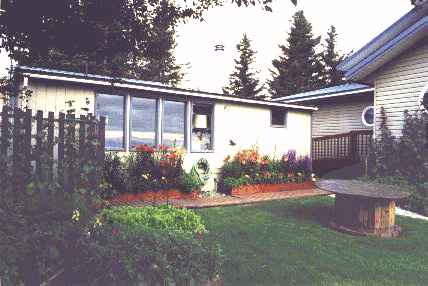 The Guest House also has mountain bike rental, cable TV, private telephone, and freezer space for your fish. Smoking is permitted outside only and alcoholic beverages are not permitted on the premises. Sorry, we cannot accommodate pets.
Kachemak Bay is abundant with bird life. Springtime features an incredible shorebird migration, with approximately 100,000 shorebirds passing through. Seabirds are plentiful throughout the bay as well. Several active rookeries are easily accessible through affordable charter operators. Don't forget your binoculars.
---
RATES
| | |
| --- | --- |
| Per night for two | $120 |
| Each additional person | $20 |
| Weekly rate (1-3 people) | $700 |
| Weekly rate (4-6 people) | $750 |
---
Advance reservations are recommended and a one night advance deposit is required to guarantee your stay. Deposit is fully refundable if canceled within seven days of your reservation date. Open May 1-Labor Day.
For further information or reservations contact:

The Shorebird Guest House
Claudia Ehli and Rose Beck
P.O. Box 204
Homer, Alaska 99603
(907) 235-2107

---

If you would like more information please E-mail us at peeps@alaska.net
---
WEB Page Design and Code Copyright © 1997
PRIME DATA INTERNET OF ALASKA
E-mail: webmaster@primedata.net