What We Offer:
---
Guided Tours
By The Hour
cost: $25/hour/person
Includes-

---
Joring Dog-Lease
Hour- $10/hour

Daily- $30/day

---
Customized Your Own Adventure:
Customized outings can be set up to include an overnight at a remote cabin site.

---
For more information or to make reservations email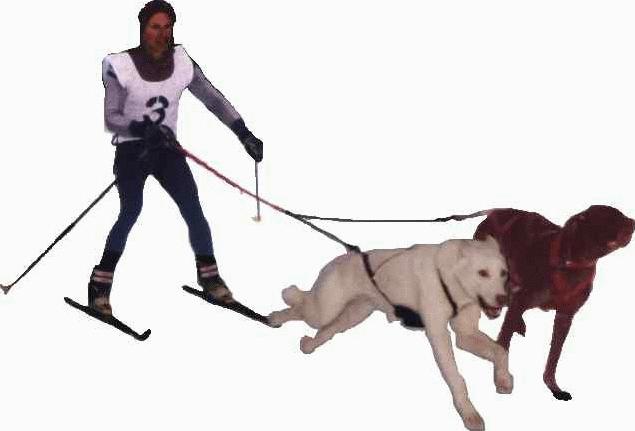 ---
Welcome to skijoring in Trapper Creek, home of some of the finest snow conditions in Alaska. This area has long been a favorite spot for many winter sporting activities, and I strive to offer unique opportunities for novice and experienced skijoring enthusiasts.
These outings will take you to an area with magnificent views of Mt.McKinley, across a landscape easily traversed by any skiier.
The dogs are Alaskan racing sled dogs. They have been individually skijor trained by me, Trapper Creek Librarian, Patty Christensen.
Skijoring can be enjoyed by people of all ages. Adding a dog to your skiing adventure can allow you to travel greater distances in less time. I do, however, recommend you have some cross country skiing experience before you try skijoring.
Come and enjoy one of the most invigorating of winter sports .I will accompany you on a pleasurable outing you won't forget, or set you up for your own adventure. Your experience can include a magical Alaskan full moon, or Northern Lights viewing, nighttime skijor, if the timing is right. These skijoring opportunities are available throughout our snow season as conditions permit. The optimal season is late February through early April.


---
Learn more about skijoring