Welcome to Alaska's Kenai Peninsula!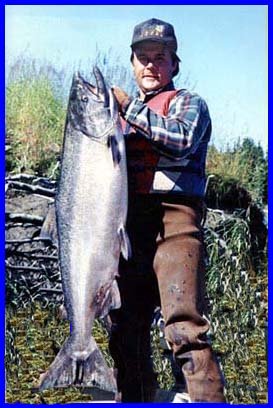 This is the home of the famous Kenai and Kasilof Rivers.
Where the World Record King Salmon was caught!
Hi, I am Doug Morris, guide and owner of North Wind Charters. I have been fishing these waters for the past 15 years. In this time I have found that fishing from a drift boat is one of the best ways to enjoy your fishing experience on these rivers. You can fish for King Salmon, Silver Salmon, Red Salmon, or Rainbow Trout. The fishing season really turns on in mid May and goes through September. Kings on the Kenai River average 35 to 55 lbs., and on the Kasilof River 25 to 45 lbs.

Here I have a 76 lb. King Salmon caught on the upper Kenai River.

Both Rivers support good runs of Silver Salmon which start in August. The run in the Kenai goes through mid October. The run in the Kasilof goes through mid September. Sockeye (Red Salmon) enter both rivers in good numbers the middle of July. This run usually lasts 2 to 3 weeks.
I provide all top quality fishing gear for each fisherman. I also provide the bait when it is allowed.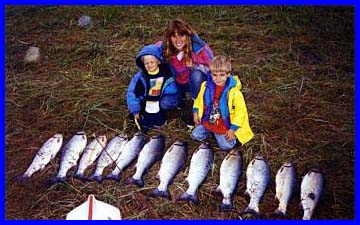 Silver Salmon caught on the Kasilof River in early August.

NORTH WIND CHARTERS
49150 Party Circle
SOLDOTNA, ALASKA 99669
(907) 262-5827
E-MAIL: nthwind@alaska.net
Visitors
Web Design by

Computer Services
This page is copyright © material, all rights reserved.