Updated 4-26-2002 Reload or Refresh for Newest Page
#1 Do You Know When The Alaska Pipeline Was Built?
* Answer near the bottom of this page
State of Alaska Division of Oil and Gas
http://www.dog.dnr.state.ak.us/oil/
The Alaska Pipeline was built by a cortsortium of seven companies.
BP Pipeline Co. 50.01%
Arco Transportation Alaska, Inc. 21.35%
Exxon Pipeline Co. 20.34%
Mobil Alaska Pipeline Co. 4.08%
Amerada Hess Pipeline Corp. 1.5%
Phillips Alaska Pipeline Corp. 1.36%
Unical Pipeline Co. 1.36%
The pipe has a diameter of 48 inches and is *800 miles in length with less than half buried, the remainder is on 78,000 aboveground supports, located 60 feet apart, built in a flexible *zigzag pattern. There are more than 800 river and stream crossings. It has 151 stop-flow valves in case of leaks. At any one moment, there are about 9 million barrels of oil in the line. Approximately $8 billion for construction of entire system, including Valdez Terminal and pump stations, at conclusion of initial construction period in 1977
*Pipe Above-ground — 420 mi.
*Conventional Pipe below-ground — 376 mi.
*Refrigerated Pipe below-ground — 4 mi.
*Zig zag Configuration of the Alyeska Pipeline: Above-ground sections of the pipeline are built in a zig zag configuration to allow for expansion or contraction of the pipe because of temperature changes. The design also allows for pipeline movement caused by an earthquake.
Recoverable reserves, at discovery (estimated)
Sadlerochit - 9.6 billion bbl.
Kuparuk - 2.2 billion bbl.
Lisburne - 300 million bbl.
Milne Point - 100 million + bbl.
Endicott - 350 million bbl.
Pt. McIntyre - 300 million bbl.
*Basic conversions: 1 bbl. = 42 gallons bbl. per ton = 7.07 One Barrel = 42 gallons
*Pump Station facilities in original design — 12 pump stations with 4 pumps each.
Number of stations operating as of Jan. 1, 1997 — 9: Pump Stations 1, 2, 3, 4, 6, 7, 9, and 12.
Maximum daily *throughput — 2.136 million bbl., avg. It takes approximately 5.6 days for a barrel of oil to travel the full length of the pipeline at 5.4 mph. Almost 13 billion barrels have moved through the Trans Alaska Pipeline System by 2000. Storage tanks capacity in Valdez - 18, 9.1 million barrels total.
*Throughput, actual average per day through 1997
---
Shipping Destinations
Under provisions of the Trans Alaska Pipeline Authorization Act, North Slope crude may not be
exported from the United States, its territories or possessions; exceptions (of which there have been none to the date of this printing), such as crude trades with other countries which might work to the ultimate benefit of the U.S., must be approved by the President, with the concurrence of the
Congress.
Alyeska ships the oil in tankers that must travel from Valdez through the Panama Canal, which adds to the cost per barrel for Alaska crude oil.
Alyeska's Helpful Glossary of Terms
Alyeska Pipeline's Home Page......................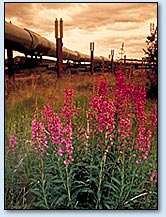 ---
#2 Do You Know When The Largest Oil Spill in U.S. History
Occurred in Prince William Sound from The Tanker "Exxon Valdez"?
* Answer near the bottom of page
State of Alaska Exxon Valdez Oil Spill Page
Pipeline Quick Facts from Alyeska



---
Here is a link to articles from the Geophysical Institute's Science Forum
on Alaska Geology: Rocks
---
©ETMJ's Alaska 2001
Aug. 2000 from the Richardson Hwy. at Willow Lake.
---
Please leave your comments about this page
in our Alaska Book on our home page.
©ETMJ's Alaska 2001
---
Answer One: Construction began on March 27, 1975 and was completed on May 31, 1977. After construction began and the first pipe was installed, it was completed on June 20, 1977 when the first barrel of oil left Prudhoe Bay. The first barrel of oil reached Valdez Terminal on
August 1, 1977.
Answer Two: The biggest oil spill occurred on March 24, 1989

Created and Written by Theresa and Jason B.
---
To help you further your quest for knowledge, try this new search engine.