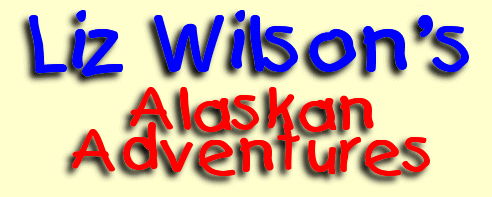 On Saturday, June 3, 2000, The Alaska Bird Club held their second annual Companion Bird Seminar at the Campbell Creek Science Center. The guest speaker was Liz Wilson, Certified Veterinary Technician and parrot behaviorist.
As many of you may remember from last year, Layne Dicker was our guest speaker, and I was assigned the sacred role of providing transportation and entertainment for Mr. D.; I was, in fact, the Dicker Handler. This year, I passed the baton to Ida and Barry Kish who became the "Wilson Handlers." Since I didn't have first-hand knowledge of some of the exploits of the Kish-Wilson Consortium, to tell this story I had to rely upon second-hand reports, rumors, police blotter records, "Area-51" Internet postings, snide whisperings in dark smokey bars, avian thought control emanations, as well as unfettered imagination. Please bear with me; a mind is a terrible thing.
Being a Wilson Handler was an awesome responsibility; they had to show up at the airport at an indecently early hour to meet Liz and provide counseling for abandonment issues; with the help of a befuddled ticket agent, working for an unnamed airline that rhymes with U.S. Air, Liz's luggage had decided to stay in Seattle. Barry and Ida took Liz to her B&B, nestled in the foothills of the verdant Chugach foothills. After being shown where the "Girlz" outhouse was, Liz settled into slumber, confident that her stay in Alaska would be fun, even though she only had the clothes on her back and a "Processed Cheese Food Snak-Pak" from the plane.
Day One: "Where Oh Where Have My Little Bags Gone?"
The following morning dawned clear and bright (keep in mind that dawn happened only about half-an-hour after Liz went to bed. Alaska in summertime is a No-Dark Zone). Later that same day, after much gnashing of teeth and a particularly potent flash of the Evil Eye (which carried immense power even over long distance phone lines), the unnamed airline that rhymes with U.S. Air finally decided that they should indeed send Liz's luggage to Anchorage. The rest of the day was spent touring Anchorage and watching an entertaining show at the Fly By Night Club.
For those who have been in a cave for the last few decades, or are new to the eclectic Anchorage nighttime entertainment scene, the Fly By Night Club has been going out of business at the same location for over forty years. Proprietor "Mr. Whitekeys" and his talented crew of performers present shows throughout the year which poke fun at local people, local politics, and Alaska in general. The shows include bawdy songs, silly skits, slide shows, and lots of Spam, a "meat" product that Alaskans reportedly consume in quantities equivalent to their body weight each year. Since I don't eat Spam, I can only assume that somebody out there faithfully consumes my portion of the statistical total.
On the day before the seminar, Ida and Barry took Liz on a sightseeing trip to Seward, with a side trip to Exit Glacier. The details of the trip are a bit clouded, but I've been able to piece together some information which indicate that they saw at least one moose, a glacier, a bunch of sea life at the Alaska Sealife Center, a yummy lunch at a restaurant by the water in Seward, puffins, whales, mosquitos, a Sasquatch, a squadron of Imperial TIE fighters, three French hens, two turtledoves, and a partridge in a pear tree.
Day Three: The Conference
The dawn dawned clear and bright, like light from the sun peeking over a mountain. Mosquitos flitted in the air like some kind of bug and the leaves of the trees swished and swashed in the invisible windy breeze. I pulled up to the seminar site in my trusty 1987 Subaru (dubbed the "Azure Meteor") and saw Liz standing outside the "freight entrance" patiently watching the goings on. I tossed a box of pamphlets to her and said "Hey, Babe! Make yourself useful and get these inside!" After regaining consciousness twenty minutes later, I apologized and finished unloading the car.
Since we used the same facility as last year, and since Mother Nature, in a spasm of helpfulness, had blessed us with a sunny, warm, Alaskan late-spring day, we had to once again attach foil to the windows to block the solar glare, with the added benefit of reducing the effect of Avian Thought Control (ATC) waves.
After a brief introduction by this year's President of The Alaska Bird Club (me), Liz took control. Her presentation covered a range of topics including: establishing controls; how to "fix" behavioral problems by not letting them happen in the first place; basic parrot socialization; the importance of avian veterinarians; nutrition; and where to find compromising pictures of Layne Dicker on the Net. The top and bottom halves of the day were separated by lunch in the sun and hiking on the trails around the Campbell Creek Science Center.
At the end of the day, after the foil was wadded and discarded and the room returned to it's original upright and locked position, Liz and a herd of attendees retired to the Mediterranean ambiance of Aladdin's restaurant, where we talked until the wee hours on subjects as diverse as: parrots; education; parrots; high-protein human diets; career choices; parrots; and where to find compromising pictures of Layne Dicker on the Net.
Day Four: Maxine the Staple Remover and then The Zoo
It was the day after the seminar and Karen Webster, Newsletter Editor of The Alaska Bird News, had hired Liz for a consultation regarding her little bundle of ferocious avian energy, Maxine. The consultation went well, and after a brief detour to the hospital for a transfusion to replace the blood lost to Max-bites, Karen brought Liz to the Alaska Zoo where they joined Jim and Sarah Hill, and Garry Wallan, for a tour of the zoo.
First stop: ravens. These magnificent birds had been treated for wing injuries at a local rehabilitation facility, but the damage was so severe that they could not be released into the wild again, so they became ambassador's at the zoo. They jumped, they cawwed, and they ripped large chunks from a wet slab of meat, which reminded me of the days before my teenage son moved out into the real world. The ravens took an unholy interest in Liz, and later I got the distinct impression that wild ravens were watching our guest as well. I suspected that Liz's macaw, Sam, had telepathically contacted the ebony corvids in an effort to keep tabs on "mom."
While standing on the high walkway overlooking the tiger enclosure, Liz dropped her lens cap down to the forest floor forty feet below, just outside the steel bars of the enclosure. I gallantly charged down the access path, over a fence, and headed cross-country towards the errant lens cap. Suddenly, two things happened in quick succession to alert me to a possible misadventure. First, I spotted a nearly-invisible electric fence wire; as I lifted my leg to step over it, my brain engaged and suggested that the crotch-high energized wire might not be a good thing to come into contact with in such an intimate way. Second, I realized that I had just jumped over a fence in a ZOO and had charged forward towards a tiger enclosure. I did not want my family to have to identify my remains after they had passed from the recti of several large jungle cats. I hollered up to Liz on the walkway high overhead and told her that her lens cap was lost forever, sorry, and walked quickly back to the main pathway, hoping that the Zoo Cops had not witnessed my brush with stupidity.
The rest of the Zoo Tour took us past a bears, an elephant, moose, porcupines, a coyote, a fox, and a whole slew of other critters. The day ended abruptly while watching the antics of Apun and Oreo, the Brown Bear and Polar Bear pair ("antics" is probably not the right word, unless you take it to mean "lie in the sun, roll over, scratch your privates, roll over, yawn, repeat"). A Zoo Cop, built like Grizzly Adams and dressed in a khaki uniform complete with Zoo Hat and cute little Zoo Shorts, told us that the zoo was closed and followed closely as we made our way to the exit. We gathered near our cars and talked for nearly a quarter of an hour until a frantic yell from the far side of the parking lot caught our attention: "Are those your cars?" Apparently, the presence of cars in the lot suggested to the Zoo People that humans were still roaming the Zoo Grounds, so the Zoo Cops were frantically searching for these humans so they would not become jungle snacks.
We apologized to the Zoo Cop, piled into our cars, and left the vicinity for dinner and liquid refreshment at Moose's Tooth Pizza and brewhouse, home of some of the best pizza in this solar system, and source of a green apple ale that they better have in Heaven or I'm not going.
Day Five: The 26 Glacier Mystery Cruise
On the Monday after the seminar, most of us had to return to the drudgery of working and earning paychecks so we could afford to buy bird food, bird toys, bird treats, and a few things for ourselves.
Happily, Barry and Ida Kish were able to take time to continue their Wilson Handler duties. The Plan: head down to the Alaska Railroad Station, get on the train, and go to Whittier where they would embark on a day-long wildlife cruise on Prince William Sound. The Reality: headed down to the Alaska Railroad Station and discovered that the train departure time reported to Barry was actually the boat departure time in Whittier; the train had left hours earlier. Imagine the thrilling flow of negative energy directed at the Tour People! Barry was able to secure not only a refund, but either free future trips, a heavy discount, or the lawn-mowing servitude of their first-born male child, depending on which eye-witness you talk to.
As an alternative to the 26 Glacier Mystery Cruise, Ida and Barry took Liz up to historic Hatcher's Pass, about 50 miles north of Anchorage. Rich in mining history, the Hatcher's Pass area is a hotbed of paranormal activity, attracting ghost hunters from nearly a mile away. According to informed sources (or possibly deformed souses), Liz encountered a free-floating phantasm named "Ol' Red" who told her of the great Head Rush of 1898. Ol' Red is believed to be the spirit of Red Bleever, the original horticulturist who helped develop the plant stock that eventually became known as Matanuska Thunderweed and transformed college campuses nationwide from the 60's to the present. Strangely, Ol' Red kept asking Liz where to find compromising pictures of Layne Dicker on the Net.
The rest of the day took Liz to Ida and Barry's place for R&R, followed by dinner at either Simon and Seafort's (a very nice restaurant in downtown Anchorage) or Splibbin and Hogwash, a wretched hive of scum and villainy; my sources are not in agreement on this. Hours later, Liz departed the Greatland for her home in Pennsylvania, taking her luggage, her dinner, and a load of memories along for the trip.
For those of you who are reading this and are not in Alaska: you, too, can visit mythical ghostly mines, take mystery cruises, walk the zoo trails, and savor the heady wonder of Alaska. All you need to do is buy a plane ticket, find a place to stay, and then do all that stuff, and more!
If you need a good excuse, consider the 2001 Alaska Bird Club Companion Bird Conference, tentatively scheduled for Saturday June 2, 2001. We don't know who the speaker(s) may be, but we have some interesting plans; only time will tell! Watch our newsletter or periodically check our informational web site at http://communitynews.adn.com/239/
Thank you Liz, Ida, Barry, Karen, Sarah, Melanie, Garry and all the others who helped make the Alaska Bird Club 2000 Companion Bird Conference happen.
This page has been visited
times.