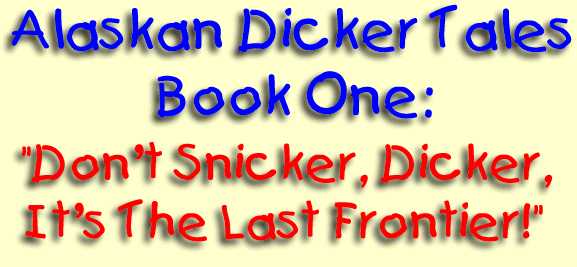 For many years, The Alaska Bird Club (yes, that's a capital "T" in "The" -- it's the way we were incorporated, therefore the way we are) had been playing with the idea of bringing a special speaker up to Alaska from "Outside" (the general Alaskan term for any place other than the holy state of Alaska).
After years of wishful thinking, in 1998 we finally solidified our plan of attack, saved up our nickels and dimes, organized the first annual Alaska Bird Club Pet Bird Conference, and had the great fortune to secure the appearance of Layne Dicker as our featured speaker.
While everyone else had taken on various mundane duties in planning and organizing the event, I was assigned the sacred role of providing transportation and entertainment for our guest; I was, in fact, the Dicker Handler.
"Now Arriving at Gate N1..."
During the week prior to the conference, I had been in Palm Springs for a software developer's conference. Long days of seminars followed by long nights of socializing (drinking), brainstorming (drinking) and networking (drinking), followed by over eight hours of travel to return to Anchorage the day before Layne's arrival had left me a wee bit under-energized.
However, after a day of rest, I was prepared for my duties, so off to Anchorage International Airport I went. I arrived at the main terminal, completely forgetting that all the Delta flights had been moved to the North Terminal, about a half-mile away. I raced to the car, drove through clots of airport traffic, and zoomed into the North Terminal parking lot, with ONE MINUTE to go.
I ran inside, checked the "arrival" monitor, and hurried toward the gate, only to be stopped by the most mentally dense security guard I have ever met. After emptying my pockets TWICE, she finally agreed with me that my suspender clasps were making her machine wheep and beep like an agitated budgie.
I had barely walked a hundred feet past the security entrance (trying to stuff cash, car keys, receipts, and other pocket flotsam back into their respective hiding places) when Layne suddenly appeared before me. What a strange sight it must have been for Layne to arrive in Anchorage, Alaska and see Garry Wallan walking towards him, holding out a handful of cash and a small pocket knife as though it were some kind of local gesture of greeting: "Welcome, tall mysterious traveler from Outside. Here, take my pocket knife and cash. Be Safe. Buy Candy."
We exchanged pleasantries (but NOT cash or pocket knives) and headed toward the baggage area where I met the "Heavy Bag" which was the carrier for Layne's books. Remember the "Cosmos" series on PBS, especially the segment where Carl Sagan described the material of a neutron star as being so dense that a spoonful would weigh thousands of tons? Layne had four spoonfuls of that stuff in this bag.
The bag itself was made of a pale, hospital green, rubberized material which could probably stop a particle beam. On the handle of the bag was a dayglow orange sticker that said "HEAVY" although I believe it would have been more appropriate if it had simply been labeled "HERNIA." I let Layne carry the "Heavy Bag."
Layne had arrived shortly after midnight on Saturday, June 12. As is usual for Alaska during that time of the year, the sun had only set a half-hour earlier; the sky to the northwest was still a bright yellow-orange yielding to blue overhead. I got the distinct impression that, above all else, this phenomenon had strongly grasped Layne's attention when he stated: "It's midnight and the &%$@! sun is still up!"
I had a vague notion where the hotel was located, which is more than enough for me. After all, I'm a GUY, and we don't NEED directions! I pulled into what looked like the parking lot and had the strange feeling that I was dropping Layne off at some aircraft parts warehouse; none of the buildings looked very hotel-like. I finally drove AROUND the building and found the hotel entrance. In a spasm of helpfulness, I carried the "Heavy Bag" to his room. On the way out, I located my testicles and then continued home to get some sleep before the conference.
Later that Same Morning...
A mere seven hours later, I was back at the hotel to retrieve Layne and take him to breakfast. I had picked out a quaint little mom-and-pop restaurant in downtown Anchorage. Getting there proved to be an exercise in creativity. There are actually two seasons in Anchorage: Winter and Construction; Layne did not arrive during Winter. While I was navigating around the construction zones in downtown Anchorage, Layne remarked "This is 'downtown?' It's so CUTE!"
Cute? CUTE? A baby conure is "cute" -- this is Alaska, where men are men, and women are men, and the dogs are men. Downtown Anchorage is ... alright, maybe it IS "cute." It's roughly fifteen blocks E-W and seven blocks N-S, full of tall sprawling office complexes next to log cabins next to gift shops, covered in pretty landscaping and flower boxes which tend to distract tourists so they don't notice the inebriates whizzing on the sidewalk in front of City Hall.
After breakfast, we made our way back through the orange traffic cones and asphalt fumes and headed for the Campbell Creek Science Center, a Bureau of Land Management facility located deep in the woods toward the east side of Anchorage. As we left the paved road and rattled down the rough dirt road to the conference site, I reassured Layne that all was well by asking if he ever saw the movie "Deliverance."
The Science Center was a wonderful venue for the conference. The setting was rustic, traffic noises were non-existent, and the possibility of a moose or bear sighting actually existed. They even had the correct model of Kodak slide projector! However, the Venetian blinds were no match for the Alaskan sunshine, so we had to do some last-minute arctic engineering by taping aluminum foil over the windows. This had the added benefit of blocking those pesky avian though-control waves.
Layne jumped right in and helped by climbing up a ladder and covering a high ceiling window with an ugly green tarp. The sight of our guest speaker, precariously balanced twelve feet off the ground, tarp in one hand, tape dispenser in the other, clamped a few heart valves shut. However, the sight of Layne's posterior apparently provided previously unknown cardiac restorative powers for the female members of the audience ... perhaps some of the males as well; I wouldn't know.
Just before Layne was introduced, I distributed Dicker Clickers to many of the members of the audience. Imagine the look on Layne's face when he discovered that the audience had a new method of positive reinforcement; an alternative to laughing or clapping. Layne was SO happy about this development that he autographed my copy of his book with this message: "Bite me, Clicker Boy!" Ahhh, I LOVE it when a plan comes together!
Layne's presentations were both funny and informative. There was much head nodding in agreement, and the occasional half-of-a-couple who would jerk their head toward the other in a non-verbal "SEE!" response. Folks left with full brains, and Layne sold a lot of books which made the "Heavy Bag" much lighter. Plus, Layne only climbed on his soap box twice; the latter occasion prompted a counter response from a member in the audience who apparently didn't share Layne's views on the AFA. Discussion can be a good thing.
The conference admission price included a really yummy sack lunch from a local restaurant. Most of the attendees ate lunch outside at a landscaped campfire area in front of the Science Center. The weather was warm, the setting serene, and the breeze refreshing.
As I walked up to the lunch site, I was struck by an amazing image: Layne Dicker was seated on the bottom row of landscaped steps which were arrayed in a semi-circle around the fire pit. Conference attendees were scatted around and behind Layne, keeping a respectful distance, but leaning towards him as he spoke. How Messianic; Layne Dicker's Sermon on the Mount, dispensing avian wisdom and feeding the masses with loaves and deli meat!
After lunch, most of us basked in the Alaskan sunshine, soaking up the rays and saving them for the cold winter. Layne went on a short guided hike to Campbell Creek with Nancy Duke, in search of wild moose or scary bears. Alas, all they found was mosquitos.
After the conference, a general invitation went out to the bird club board and various club members to meet at a Post-Conference Decompression Dinner at "Gwennie's" a restaurant steeped in rustic charm and Alaskan memorabilia. In my humble experience, in addition to it's northern ambiance, "Gwennie's" is also the home of Big Food, second only to "Jack's" in Orcutt, California, where the baked potatoes are the size of Volkswagen Beetles.
In attendance were Garry, Carrie and Beth Wallan; Jim and Sarah Hill; bird club VP Karen Webster; and of course, Layne Dicker. My daughter, Beth (soon to be enrolled in Ithaca College to study film-making and cinematography), was fascinated by Layne's stories about the trials and tribulations of working in the entertainment industry. We all joined in a discussion about the merits or "suckiness" of various movies, culminating in a recitation of favorite lines, however non-PC, from "Blazing Saddles."
Later, as Layne became more relaxed, thanks to the soothing effects of scotch and beer, he regaled us with stories of his misspent youth, hanging out with, or simply meeting, such interesting personages as John Davidson, Jay Leno, Jimmy Stewart, and Johnny Carson. To those of us who sprang from more mundane backgrounds, some of Layne's exploits ran perilously close to the edge of believability. At one point, while Layne was really cruising, verbally, Sarah Hill asked "Do you want me to stroke your ego for a while so you can rest?" followed immediately by one of those moments in life when the passage of time seems to stop and The Moment becomes Eternity. Sarah's comment was perfectly timed; as comprehension of her utterance dawned on us, all eyes focused on Layne; a cone of silence seemed to descend on our table as Layne's voice stopped dead in it's tracks. Suddenly, Layne leaned over and hugged Sarah as the rest of the people at the table erupted into laughter.Time marched on.
First, it was Garry and the clickers, then came Sarah; Layne never had a chance.
"I think you need to stop the car!"
Though originally destined to head back home early Sunday morning, Layne decided to spend an extra day in Alaska. Being the official Dicker Handler, I provided transportation and a running litany of tour guide history and outright tall tales as we embarked on a whirlwind tour of a tiny fraction of this huge state.
First stop was the intake and stabilization facility of "Bird TLC" a wild bird rehab organization. We saw a half-dozen sick Bald Eagles, a Stellar's Jay, some Bohemian Waxwings, an orphaned gosling, and a Great Horned Owl who really didn't appreciate the attention.
After that, we ran up to the Hillside area of Anchorage for a scenic overview of the city before heading south on the Seward Highway. Layne wanted to see wildlife, but I told him that there were no guarantees. Within ten minutes, however, we were parked on the side of the road so Layne could invest a couple of rolls of film on a herd of Dall sheep which cavorted in the rocks about fifty yards up from the highway.
A few minutes after returning to our southward journey, I suddenly heard Layne exclaim "I think you need to stop the car!" which either meant that Layne was about to do the Technicolor Yawn, or he had spied something photographically interesting. Thankfully, it was the latter.
The tide was receding at a healthy rate and had exposed the extensive and treacherous mud flats of the Turnagain Arm portion of Cook Inlet. Out on the flats, alone and in clusters, were nearly forty Bald Eagles, enjoying the sun, eating fish, and doing whatever else makes eagles comfortable. Over a dozen more soared overhead, happily cruising and playing in the wind currents.
Layne shot photos. Layne gaped through my binoculars. Layne made various quasi-vocal noises. Finally, Layne announced that mere numerical references could not describe the raptoral presentation he beheld, so he eloquently dubbed the display a "shitload of eagles," a term which will endure through my lifetime.
We took a short side trip into Girdwood, a winter recreation community and home of the Alyeska Prince Hotel, a world-class ski resort. Sheltered from the winds of Turnagain Arm, we ate brunch in the warm outdoors, overlooking a beautiful reflecting pond.
The rest of the day took us to Exit Glacier; the city of Seward; the Seward Sealife Center; and then back to Anchorage, past green forests, verdant tundra, sparkling lakes, rushing rivers, glittering glaciers, looming snow-capped peaks, and a shitload of invisible bear and moose.
By the end of our 300-mile roundtrip excursion, Layne and I were sleep-deprived and exhausted, so I dropped him off at his hotel, said goodbye, and went home to my avian-human family.
There's the Wind-up and Here's the Pitch
For a first effort, I think the conference was great. We had about fifty attendees, half of which were not members of The Alaska Bird Club. We raised enough money to continue to support the club's education activities and to seed next year's conference. I have already heard suggestions from folks about what they want to see in the next conference, and who they want to hear as a speaker.
But for now, the hard-working bird club members and supporters who made this event happen will take some time to decompress and bask in the knowledge that their efforts were appreciated and fruitful before laying the foundation for the next conference.
I hope some of you use The Alaska Bird Club Pet Bird Conference 2000 as an opportunity to not only add to your avian knowledge base, but to also have an Alaskan adventure and search for your own "load" of eagles!