Furs
---
Alaska is so fortunate to have such great furriers who create the best fur gifts. Homer's Gold-Mine Gifts is so fortunate to have such artists as Stephanie Carroll, Linda Skelton, Marivel Petska, Shirley Speer, and Memeluck.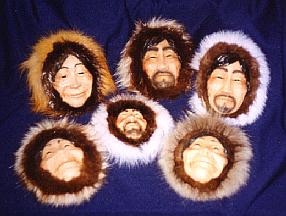 Our fur masks are here in Alaska. Each crafter has his or her own distinctive designs. When the masks are up on the walls, the "eyes" follow the individual who views them. Each mask has beaver directly around the face, and then is lined with variations of fox on the outer edges. Each one is made with the fur to match in pairs of a male and female. Natives are "happy" people, and most generally, there are NO facial expressions at all, especially on the female, therefore, she gave her females a nice gentle smile. They come in various sizes and prices, even down to fur magnets. and are reasonable.
We are fortunate to be able to bring to you hand-made fur slippers, gloves, pin cushions, ear muffs, and the most unique Xmas ornaments.
Our artists, who come from all over Alaska, create baby fur slippers, mukluks, and dolls ranging from 6"-18" tall. These people even create key chains made out of seal skin and look like miniature mukluks boots.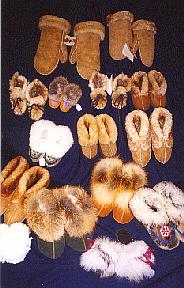 We have several artists who specialize in fur slippers. Each designer has their own "special" technique and individual style. We have the pleasure of presenting three different styles of slippers, both for men, women, and children. These are made out of different colors of suede leather, lined with sheep skin, and topped with blue or silver or red fox (ranch raised) and beaver (wild). They are just striking to behold. These are again, reasonably priced for the consumer.
We also have an artist who makes Sheep Skin hats, slippers, and mittens, for men, women, and children. Her name is Shirley Speer. Her knowledge was passed on through an elderly Aleute Eskimo lady whose name was Nita. Shirley Speer has developed exceptional "hand-sewing" skills over a time span of two-plus decades of Alaska living. She's now considered to be one of Alaska's foremost fur and leather artists.
Many villagers come to present their creations once a year, and each year have different products. They consist of grass baskets, baleen baskets, fans, and spiritual masks. Sometimes, they create a kyak made by hand from our trees and fossilized ivory, and then trim it in fur. Everyone is unusual and unique to the individual who creates it.
There is a very unique family, located in Tok Junction, Alaska, who makes up an entire family of fur dolls. Grandpa, Grandma, Mom, Dad, & two children, a boy and a girl. The faces of the dolls are made from the birch trees, with ivory used as the teeth and eyes. The bodies are covered with hand made original native costumes, which included mittens, mukluks, and parkas. The bead work is phenomenal. The second generation is now making the dolls, from her wheel chair. They are lovely to behold. They also make caribou antler dolls.
For the person who has "everything" and is a "teddy bear" collector, we have the BEST FUR TEDDY BEAR artist in the entire state. She is a self taught individual, who learned her trade while living "out in the bush" for many years. She uses only the finest furs, and makes her bears come alive with their own individual personalities. They are cuddly, soft, and irresistible. They "sit" on anything, and each one comes with an individual tag about the fur that was used. She signs each one on the foot so the buyer will have a truly individual and unique gift. She makes two sizes, small and large.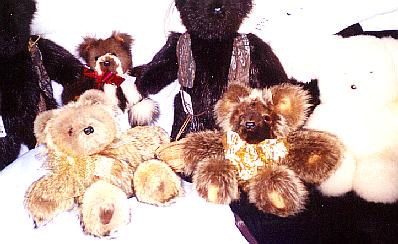 Another lady in Homer also creates fur teddy bears. Her bears come in two sizes, also. Her large bear is standing up, and is "ready to go fishing". He has a fishing vest on, and has his fishing tote around his neck. He is usually made out of beaver fur. He's real cute, too. She also makes small bears out of mink fur. She also signs her artwork on the bear's foot. Each one, again, is an individual, and unique.
This family of Furriers has been creating fur parkas, ear muffs, dolls, slippers, gloves, hats, ornaments, etc. for over four generations and are now a part of Alaska's history. They use only the finest furs, leather and materials. Their dolls are dressed in authentic Eskimo costumes with all of the beadwork and detail sewing done by hand. Many are collectibles. Even the dolls are porcelain, and their collectable porcelain dolls come with a registered Alaskan Passport.
---
Home Clothes Food Jewelry Art

Salmon Syrups, Jams, Jellies, & Honey's Fudge