Art
---
We take pride in carrying a wide selection of products made by us and Alaskans. We have MANY original oil paintings by Jon Von Zyle, Annette Hartzell, Josephone Crumrine, Doug Lindstrand, etc., as well as prints. They are something to behold!!
We are quite fortunate in having the best hand carved moose antlers, usually into eagles, which hang decoratively throughout our store, along with some that are mounted on stands. You'll have to see them to believe them.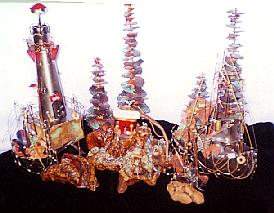 One of Alaska's best metal sculptors lives right here in Homer, and we are privileged to carry her work. She creates our fishing boats, complete with sea gulls, skiffs, flags. She is now creating the most unusual breathtaking light houses, (some say after our Salty Dawg here in Homer) complete with skiffs, docks, lights, sea gulls, etc. She also has created our spruce trees and has mounted them on beautiful pieces of wood.
Because Homer is a "special" place, some of the best artists gather here. They come to Homer, decide to stay, and THEN create a way in which to make a living. We have the best hand-crafters in the entire state. They create hand sculptures made from the glacier clay which include figurines, mugs, pitchers, wind chimes, etc. and then a complete line made from the glacier silt which includes mostly figurines. Our ceramic creators do wondrous things such as fireweed platters, wild life mugs, pitchers, vases, etc.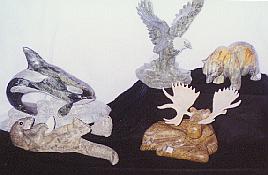 Our carvings are another site to behold. They are made from Jade, Ivory, Hematite, antlers, brass, bone, Sperm Whale teeth, baleen, soap stone, hydrastone, etc. and include the smallest mammal(whale, walrus, bear) to the ultimate christalite Walrus from Baronoff Island, and our huge eagles.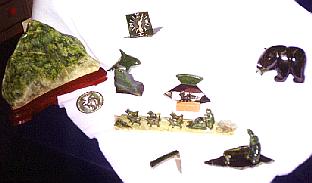 We have knives made from Jade, Bone, Ivory, etc. in the form of ulu knives or regular ones. All with stainless steel blades. We have the largest selections of ulu knives in Homer.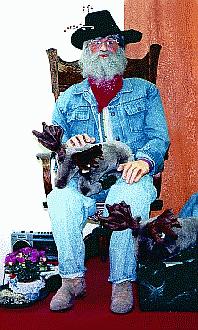 Homer, Alaska is over 100 years of age, now. We, therefore, thought it would be great to re-create Homer Pennock who the town was named after. He's life-size, talks through his mouth, blinks his eyes, turns his head, waves at everyone, and is dressed up just like "ole' Homer". We have a lot of fun with him talking to all our customers in and outside the store. He's quite a character to sit down and have a visit with.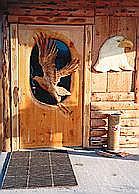 Talk about carvers!! Take a look at our hand-carved wood doors. They were made by a local carver, all out of our local spruce wood. Colorful, just doesn't describe them. We also have locally carved halibut mirrors, cutting boards, bear paw cutting boards, and fish.


Our Alaskan sculptors, carvers, and artists are all around us. The carvings they bring to market and are another site to behold. From the minature moose, bears, eagles, etc. in ivory to the beautiful masks in all sizes. They make the most beautiful dolls, as well, and everyting from kyaks to eskimo yoyos. Usually, they are a one-of-a-kind product.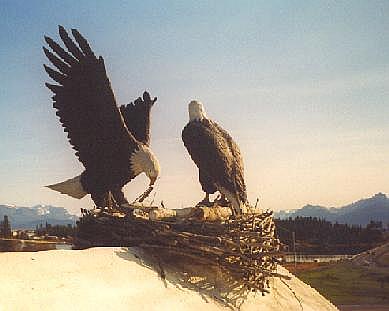 One of the first things people see when they come into Homer is our snowy roof on our huge log cabin. On top are two full-sized eagles, with their nest. Inside, see another full-size eagle, along with a 14 ft. baluga whale and her 6 ft. baby. These were created by one of Alaska's finest taxidermists. He also created and mounted many different types of fish, such as our 409 Lb. halibut, that are located in our store. You won't believe your eyes.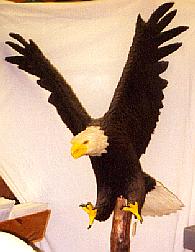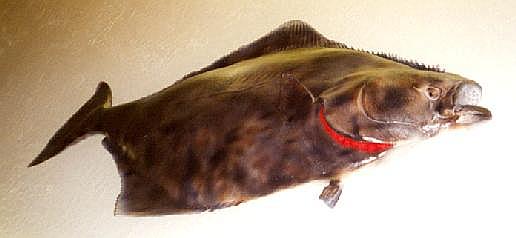 ---
Home Clothes Food Jewelry Furs

Salmon Syrups, Jams, Jellies, & Honey's