Syrups, Jams, Jellies, & Honey's
---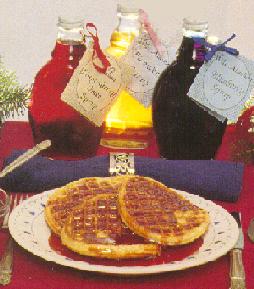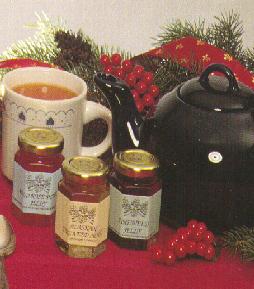 Honey's and Syrups
Wild Alaskan Fireweed Honey
Nature's finest product. It comes straight from the hive. Our Alaska Beekeepers have perfected their own methodology of separating the bees to create a "pure" fireweed honey. This honey does not contain any pesticides, herbicides or other un-natural ingredients. Guaranteed to be genuine 100% Fireweed Honey.
.75 oz-$2.00
2.2 Oz.-$4.45
5.5 Oz-$6.45
8 Oz.-9.45
Honey Sticks-$2.45
Wild Alaskan Low-Bush Cranberry Syrup(Lingonberry)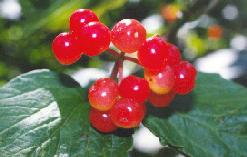 Nestled in cushiony bog beds in the wild tundra and gentle woods of Alaska, a most delicious versatile fruit glows in the summer sun. They look like garnet beads, a rich deep, deep rouge color. They are one of our tastiest gifts from the Wild.
8 oz.-$9.45
Wild Alaskan Blueberry Syrup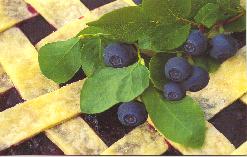 Although the Alaskan summers are short, the daylight hours are long and the results are a lavish harvest of plump, blueberries. Sometimes they are as large as grapes.
We and our harvesters spend many Autumn Days gathering the blueberries. They're so tempting we quite often over indulge ourselves. The whereabouts are kept a secret.
We are pleased to share our delicious Wild
Blueberry syrup with you and your friends!!
8 Oz.-$9.45
Wild Alaskan Fireweed Syrup
Every summer, Wild Alaskan Fireweed graces our Alaskan landscape with its brilliant pink blossoming stalks. Visitors and residents alike marvel at its wondrous display. Our harvesters gather this abundant flower and we then prepare a delicately flavored, rosy colored syrup and jam. Through the long, dark winter months, it reminds us of the warm, light-all-night summer. We enjoy it on pancakes and waffles, or french toast, or drizzled over ice cream or yogurt.
8 Oz.-$9.45
Wild Alaskan Rosehip Syrup
Alaska is also known for its wild roses. From those gorgeous flowers, we make both Alaska Rosehip Syrup and Jams. The rosehips left by the flowers, are filled with a great flavor and offer a unique taste as well as the natural aroma.
8 Oz.-$9.45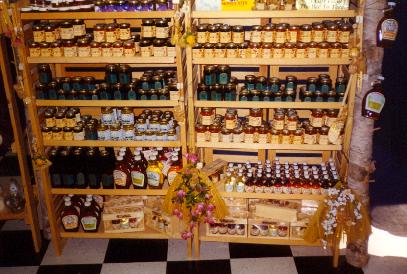 Wild Alaska Birch Syrup
Our Alaskan Birch Syrup is the lighest color and is 100% birch sap with no additives. Our Birch trees in Alaska produce the most flavorful syrup. The only sugar that is used is fructose, which is found in fruit and is much better than actual sugar.
The sap is collected in the spring, and concentrated into a syrup. It takes 100 gallons of sap to make one gallon of Birch Syrup, and as a result, it is rich in minerals.
8-Oz.-$13.45
Wild Alaska Spruce Tip Syrup
The Alaska Spruce Tip Syrup and Jelly is truly a unique product because it is made with the spring's new growth spruce tips from our Alaska Spruce trees. It produces a delicate quality tasting jelly and syrup with no bitterness. Both products are made with new growth spruce tip juice, fructose, spring water, lemon juice and pectin (for jelly).
8-Oz.-$9.45
Wild Alaska Salmonberry Syrup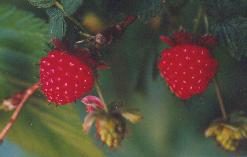 The Alaska Salmonberry Syrup and Jelly is made with pure salmon berry juice. The salmon berries and quite unique and only grow in certain locations throughout Alaska. They actually look very much like a salmon egg, and grow high on their bushes. Their color are bright red and look beautiful to observe. Most of these berries come from
Seldovia, across the Kachemak Bay from
Homer, Alaska.
8 Oz.-$9.45
Gift Paks
We also have gift packs available with 1.7 Fl. Oz. size of the following syrups:
#1: 1.7 Fl. Oz.-3 Pak: (Fireweed, Spruce Tip, Rose Hip)
$19.45
#2: 1.7 Fl. Oz.-4 Pak: (Cranberry, Fireweed, Spruce Tip, & Rose Hip)
$20.45
#3: 1.7 Fl. Oz.-4 Pak: (Birch, Fireweed, Rosh Hip, & Blueberry)
$20.45
Each wooden crate is made here in Alaska.
Jams/Jellies
We offer the following Jams/Jellies in 2.75 Oz. Hexagon Shaped Jars:
Rose Petal, High Bush Cranberry, Blueberry,
Lingonberry, Fireweed & Spruce Tip
$4.45 Ea.
We offer the following Jams/Jellies in 5 Oz. Hexagon Shaped Jars:
Rose Petal, Lingonberry, Fireweed,
Blueberry, High Bush Cranberry
$6.45 Ea.
We offer Blueberry Jelly in a nice 5 Oz. glass canister shaker with a chrome lid.
$9.45 Ea.
Another very unique marlemade made from kelp is offered in a 4.5 Oz. hexagon jar which is a new and great seller.
$6.45 Ea.
To place an order, click Here.
---