SPORTS FISHING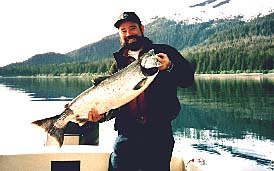 Fishing in Petersburg, Alaska
Whether you're fishing for the majestic King, the feisty Silver Salmon or the mighty Halibut, the service provided by Hindman Charters excels, and our prices are competitive. We provide all tackle, bait and we clean your fish on board. During the short trip enroute the fishing grounds in Frederick Sound, there will be plenty of complimentary hot coffee, snacks, soft drinks ... lunches can be arranged with advance notice.
AS ALWAYS--- GREAT ALASKAN HOSPITALITY!
Full day fishing--- $165 per person
Half day fishing--- $100 per person
(half day trips not recommended for halibut)


Sports fishing license required. For King Salmon, a "stamp" is also required. You may purchase your licenses and King Salmon stamp in Petersburg prior to departure.

SHIPPING YOUR CATCH

We encourage customers to use Coastal Cold Storage... they pick up your fish at the dock, then steak or fillet, freeze and box for shipping.
Northern Lights Smokeries will smoke your fish and also prepare it for shipping.

The extra charge for these services is well worth the cost.
Call or write for reservations:
HINDMAN CHARTERS, P.O. Box 1431, PETERSBURG, ALASKA 99833
Phone: 907-772-4478, Phone/Fax: 907-772-2478
hinchrtr@alaska.net