First Annual Zeta Psi Fishing Tournament
The winner of the 1998 tournament.......Jim Prendergast!!!
Honorable mention to Rick Emmi!
Wow what a vacation! The race for the Master Angler Title was Close. Rudy and Rick tie for Big fish honors. Rudy with a 70 pound Halibut and Rick with a 68 pound king Salmon. The 68 pound King was by far the more impressive of the catch.
Still Jim Prendergast persevered and landed a 58 pound King of his own. Variety bonus pushed Jim over the top. He nailed 4 out of the 5 available salmon species and if I hadn't been 100 percent wore out, I'm sure we could have landed the final species as well. He consistently caught fish, though he also gets the weenie award for sleeping the most of any of us! Still a masterful show of his amazing fish catching abilities. Congrats to Jim P!
He also gets the distinction of sending in his pictures first. So unless you guys aren't getting tired of looking at Jim with Fish, send in those pictures! Click on the smaller pictures for a larger version.
So far Two pages! More coming!
THE GROUP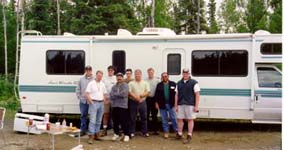 The PSI of ZETA PSI's Team Alaska": (left to right)John Anderson, Jim Prendergast, Bill Kraybill, Rudy Tsukada, Chet Lee, Scott Bartlett, Scott Gray, Rick Emmi, Shawn McKay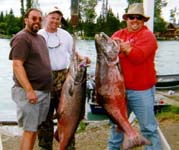 68 pound King on the right caught by Rick Emmi. 58 pound king on the left caught by Jim Prendergast. 68 pound King caught on Copper fire #877 K-16 Kwikfish. Ugly Stick medium spinning, Daiwa Emblem Z Spinning Reel, 20 pound Maxima Chameleon line, Ande 50 lbs clear leader. 58 pound details below.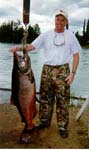 58 Pound King Salmon, K-16 Purple hot-tail Kwikfish #745, sardine wrap, Lamiglass Rod, Ambassador 7000, Maxima 40 pound test, Fibre Glow, ANDE 50lbs Clear leader. Caught by Jim Prendergast, Noon, July 19, 1998.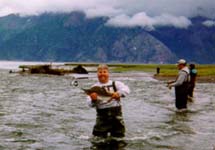 Scott Bartlett with a Humpy ( am male pink salmon) out of Resurrection creek. Caught using a 1/4 ounce pixie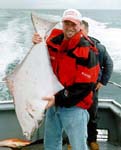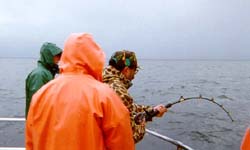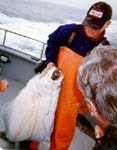 Scott Gray with a 35 pound Halibut Caught out of Seward.

Rudy hauling up a 70 pound halibut. Success!