2000 All Zete Alaska Fishing Tournament!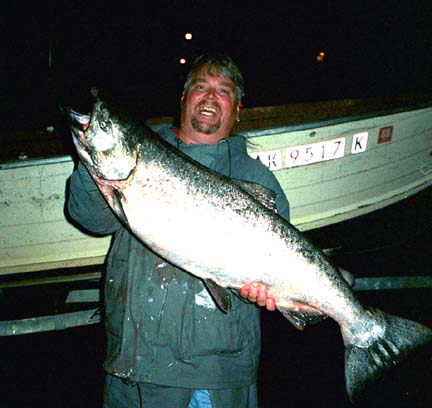 Defending Champion Jim Prendergast returns to Alaska. Sweet Pea worried about losing his title brings along Scottie Bartlett as his only challenger!
The Winner of the 2000 tournament is....SCOTTIE! With two beautiful chrome Kings one going 40 and the other 45 pounds! Jimmie not to be outdone put up a nice battle with a 40plus pound king himself and bonus for species points.
I still think I won the tournament with my catch but the guys insisted that my catch didn't qualify since it wasn't a salmon. Hmmmm...I still think I did better!
Jim was the undisputed leader for the sockeye (red) salmon teaching all the locals just how its done up here!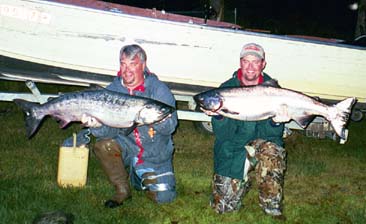 Take a look at these nice fish!
Top Picture: Scottie with a nice 45 pound hen taken on July 21, 2000 backtrolling spin & Glo and eggs at Eagle Rock
(second pic)Scottie and Jimmie with a pair of 40 pound plus hens taken July 22 backtrolling spin & glo and eggs at Eagle rock. Both of Scottie's fish were taken after 10pm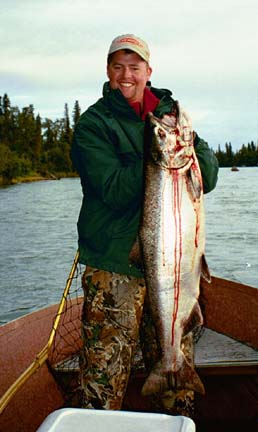 Jimmie P with a nice 40 plus pounder from the Kenai River July 22.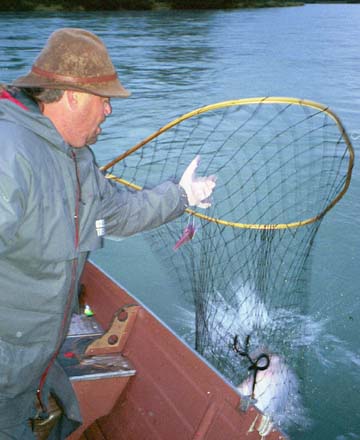 Scottie with a nice 45pounder taken at 10:30pm near Eagle Rock Backtrolling Spin & Glo and eggs. A perfect net job by Rudy! Of course! Actually it is the hardest time of the fight and Scottie handled everything perfectly. That's why I was so amazed that Scottie and Jim could read the water and handle the boat to land two awesome Kings on their own the very next day!!