Designing Nancy's Cartop Dory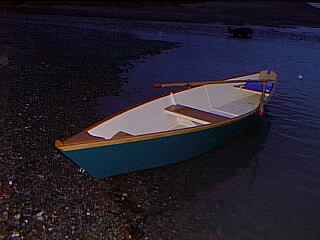 This started out as a project I was going to have designed and tacked together while Nancy was away on a 4 day camping trip - a surprise birthday present. However, I had to discard the first side panels I cut out due to my own error, which ruled out the 4 day boat. The project turned out to be something quite different, but also very positive, with Nancy building almost all of the boat herself. She did a GREAT job!!
Constraints on the Design:
Beam (at sheer) 46 inches: I started by constraining the design to fit on Nancy's existing cartop rack (48 inches), allowing an inch on each side for "stoppers" to prevent the boat from sliding off the rack, which left 46 inches gunwale to gunwale.
Beam (at chine) and topsides flare: This was a tradeoff between initial stability (kid and dog cargo made this important), and the good rowing characteristics of the narrow bottom and sharp flare of the traditional dory. I settled on 32? inches and ___ degrees.
LOA ~ 15.5 ft: develop sides from 2 sheets of plywood.
Rocker: develop so chin and stern just immerse with intermediate load, using Robert Laine's Carene 4 displacement calculator. The simplified version of Carene I used for these calculations assumed far more symmetry than my design, but was adequate for displacement calculation - it came out VERY close.
Sheer line: Minimized sweep in sheer - just enough to "look" good. I think Sam Devlin's "Oarling" just hits that edge, and I studied it closely. I wanted maximum freeboard amidships as I figured that would be a risk spot in the design, but relative low bow and stern to minimize windage, and "just a little" sweep in the sheer. I planned relatively full bow and stern, by using panel twist, with partial decks to help fend off the occasional boarding sea.
Scantlings/weight: Nancy needed to load this on her car herself, so that meant keeping weight down. I settled on luan (5 mm, just under 1/4 inch) sides, 1/4 inch marine ply bottom. Beefy gunwales, keel and partial fore and aft decks and seats to add stiffness. Bottom not glassed to save weight.
Simple "instant boat" construction methods: internal chine log, taped external seams, side panels bent on "Teal style", around one central permanent frame.
I studied Bolger's "Big Dory" (I would have used the "Light", but had no good lines handy for it), Sam Devlin's "Oarling" and the Glen-L "Dory" closely to help with the design. I took a number of measurements off of drawings for each of these boats and entered them in a spreadsheet, drawing a strong points of each for my particular constraints or sometimes averaging measurements of all three. Lots of work on paper and with posterboard models here! Robert Laine's Carene 4 and Carene 5 were helpful on aspects of the design, but did not lend themselves easily to describe all the design complexities of changing flare angles etc. Of course there is better software out there, but these tools got me close enough for my purposes.
Modifications during construction:
Added fore and aft "floor timber" frames to stiff cupping in bottom.
Also aft frame has sides to control cupping also - gussets not needed.
Rowing seat made permanent (not adjustable) to add stiffness.
Contact: Fritz Funk (fritzf@alaska.net)