Zan Bible and the Dawson Connections
Amos 1802,
.............Drury 1827, (married Elizabeth Driskell Ellis)
.....................Charles,
.........................Luther, 1892 (married Dorothy Cureton)
..............................Maxine (married Raymond Bible)
.............................................................Raymond Bible's parents were James Elbert Bible and Susan L. Dawson (making a double Dawson connection.)
Charles


Luther

contact: Zan's Email

Cousin Nora Salter helped Cousin Zan sort out some of the complexities of this family history.
Nora had a "Lisabeth" in her files who was apparently the same "Aunt Lizzie."

Nora wrote to Zan: "Charles E. Dawson had a son named Luther. We are sure you belong to my Drury Dawson & Elizabeth Driskill Ellis."

Karen helped by adding this bit:
""Hello Nora, I found Drury's son Charlie Dawson had 4 children...one was Luther Dawson born 1892."
I was talking to the Bible family in Greene Co. TN(wondering if they had a picture of Rachel Dawson Bible)..they sent me to see this Dawson guy in BriarThicket..He told me his mother was Maxine Dawson and brought a picture out of the house to show me..."

---
Summary: Zan says:

My Grandmothers maiden name was Maxine Dawson of Briarthicket AKA Bybee , Cocke county, TN. Her fathers name was Luther Dawson also from this area.

Luther is my Great Grandfather on my Grandmothers side. Luther's sister was Lizzie. (Elizabeth Dawson)

Luther's daugher, Maxine, married my Grandfather Raymond Bible. (Maxine's mother was Dorothea Cureton. Zan says: "I always knew her as my GreatGrandmother.)
Both Maxine and Dorothy died and were buried in Cleveland.

Lizzie (Elizabeth) Dawson married Joseph Conway, they adopted a boy (named Forrest Madron) Forrest married Neva Bible and bore two children. "Aunt Lizzie" (Conway) took care of my Grandmother Maxine while she was still in Tennessee before she married my Grandfather Raymond and moved to Cleveland Ohio."

Link to Pedigree Zan's grandfather.
Raymond Bible Pedigree

Susan L. Dawson was my Great-Grandmother married to James Elbert Bible (The Raymond Bible here is my Grandfather)
Notice the unknown Dawson lineage
Zan
---
Pictures
"I have many photos of the Dawsons , and ..... perhaps we can put names on these long gone folks."




I also have the three huge portraits which hung in the Dawson house. One is in a Confederate uniform that Leetha said was killed at Gettysburg, one the high sheriff of Cocke county who was killed in Cosby and I believe either Leethas uncle or father. also, it occurred to me that Leethas neighbor gave me some of the familys pictures that she had said to pass on to me.

Note on Leetha:
I have Leetha Dawsons old photos somewhere (Leetha Dawson who was married to Dwight Bible) I only regret not having been able to sit down with her before she died a few years ago. )


Well, here's a treat out of Leethas photographs. Charles - Sheriff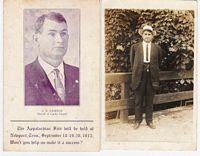 (Click on the image to see a larger one.)


---
More Pictures from Zan:
He says: "These are enlarged sections of the group porch Dawson portrait. "

My Grandmother is the little girl on the extreme right bottom of the picture with the oldest Dawson.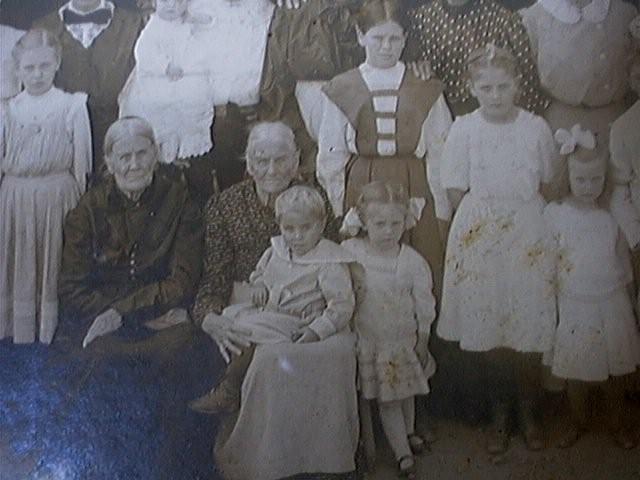 Lady in black with man's hands on her shoulder ....Mary Maid Dawson????