Webmaster's Notes
The two Dawson people who started this whole genealogical journey for me.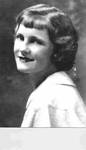 Mom, Georgie Mae Dawson and:

Clifford Dawson, her dad (and without Alleene, this photo would not have been ever known to me, nor would most of this other Dawson project. Thanks beyond words to Alleene.
---
Credits
Credit to Gina W. for sending descendant info for Amos Jr>Isaac B>Marvin>Willie W.>Daniel W.
Credit for sending the Dawson Crest goes to Karen Z. .

Credit for the Dawson Name document goes to Nora S. .

Photos of Amos, '02, Ethertons, and Issac, '32 came from Karen Z. .

Photo of Drury was from Nora S. as was the D.E.D. obituary and Ervin photos.

Photo of Bindy was from (I think...it was a long time ago...)Bonnie.

Photo of Amos '26, Clifford, Ike B., Reuben's family, and the Newt-Darthula photo came from Alleene H. .

Nora Salter,who has shared much information with us, gives her credits ...: Nora S. says, "Nora Treadwell [79] & Virginia Leach [85+] Virginia is the one who many years ago went to Bybee. Nora Treadwell isn't a Dawson, her aunt, my grandmother Ora married a Dawson."
Photo of Mary Dawson & Elizabeth Driskell Ellis Dawson was provided by Tracy E., from her website.
Also Tracy's website photos are the ones of Pearl Savel, Mary and John Reese, and Amanda.
Photos of Alfred "Cudge" or "Kudge" Dawson and Wife Elizabeth (verified by Randall's grandmother) are from Randy Bible via Karen Z.
John Dawson Family photo is from the Bibles.
Keith introduced a new, previously unknown, descendent of Amos, Jr.
Sally sent photos of the Phoebe Emaline Dawson branch (from Isaac/Wm.Henry), and a Dawson Reunion photo group.
Descendant charts also came from Sally.
More photos from Karen: Blaine Dawson, Four Sons of Isaac, Younger Isaac with Amanda and 2 of her brothers. Photo of Phoebe Katherine and Winnie L. and also the note from Leonard Dawson about identity of Aunt Sis (Narcissa).
Karen sent photos of Sara Basinger and photos of Thomas Jacob with each of his wives (Lula and Matilda)
Bonnie sent a full descendant chart of Bindy's people.