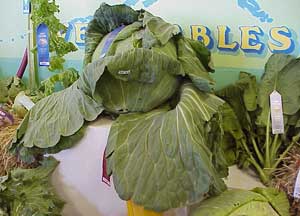 That isn't so big. At 53 pounds, the vegetable at right seemed disappointingly small to fairgoers who came to see the year's biggest cabbage. It proved to be just a placeholder, however, for the biggest cabbage, which went on display several days later. The 1999 winner was weighed in at 91 pounds. Other heavyweights at the '99 fair were a 75-pound rutabaga and a 224-pound pumpkin.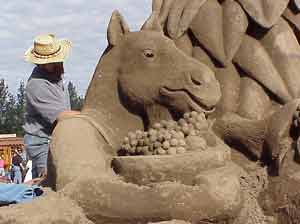 It was another good year for sand sculpture. A moose figures prominently in this sculpture that was taking shape in the first days of the '99 fair. A sculptor from Sandscapes in California began turning 50 tons of sand into "Moose Jamming in a Garden" on Aug. 22 and expected to have it completed on Sept. 6, the last day of the fair (the fair began on Aug. 27).
Below, two goat breeders listened to a judge's comments in the exhibition ring of the livestock barn. The goat on the left got the blue ribbon. Other animals on display in the barn included rabbits, chickens, turkeys, cows, and alpacas. Alpacas, suited for the Andes Mountains of South America, are just as well suited for Alaska's arctic winters. Some Alaskans have llamas, too.