!-pages by Larry Pearson, Online Design, design@alaska.net-->
True grit
Alaska is captured in sand in a sculpture that includes the state flag, a variety of wildlife and a Southeast Alaskan totem.
The 1997

The fair's new ejection seat ride took passengers from a standing (or sitting) start to 60 mph in two seconds on a rubber-band-powered flight. There are only a handful of such rides in the United States. This ride returned to the fair in 1998 and 1999.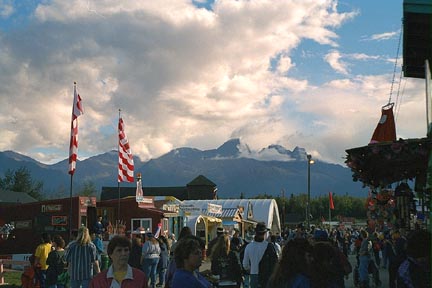 With its boardwalks and wooden and canvas structures, the midway has the look of a frontier town. Stalls offer everything from exotic foods to T-shirts, pottery and a land lottery.

Photos and other graphics © 1995, 1996 and 1997 by Larry Pearson, all rights reserved