!-page created by Larry Pearson,design@alaska.net->
If you think this cabbage is big . . .
You should see the one that won. This is one of the runners-up to the 89-pound winner. I'm pretty sure that's a pumpkin rather than a tomato just to the right of it. As for the smaller vegetable that looks like a brussels sprout . . . Nah, it couldn't be.
The 1996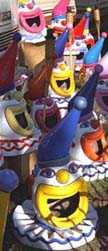 Even these garbage can lids wore happy faces at the 1996 State Fair -- in this case, perhaps it was because they weren't attached to garbage cans.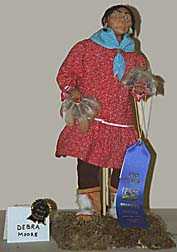 This prize-winning doll depicts an Alaska Native holding feathered, dance fans.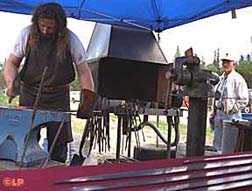 Not far from the giant vegetable exhibit, a blacksmith was forging swords while you wait. Just the thing for cutting the giant cabbage.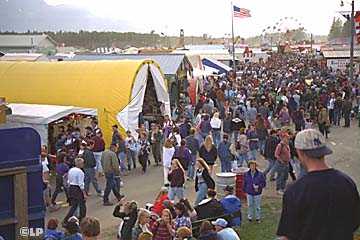 By late afternoon crowds were growing around the stands that offered everything from pottery and T-shirts to chances of winning land in the Matanuska Valley.

Photos and other graphics &copy 1995 and 1996 by Larry Pearson, all rights reserved