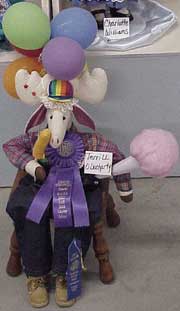 Balloons, even on dolls such as the grand prize winner at the right, and blow-up toys such as the stack of aliens at left were big at the 2000 Alaska State Fair. They even figured in one of the fair's new midway rides: The Balloon Race, below.

But the Budweiser Clydesdale hitch was one of the more imposing attractions at this fair. Weather permitting, an 8-hitch team was hitched up to the Budweiser wagon to pull it around the fairgrounds at 3 p.m. each day. The rest of the time, fairgoers could find them in their stalls in the livestock barn, or just behind it being groomed.

Familiar attactions from previous years, such as the pig race, lumberjack show and sand sculpture, were attractions this year, too.