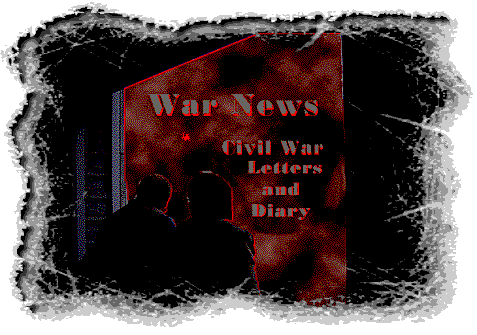 ---
We are coming, Father Abraham,
Six hundred thousand more,
From Mississippi's winding stream,
And from New England's shore.
We leave our ploughs and workshops,
Our wives and children dear,
With hearts too full for utterance,
With but a silent tear.
We will not look behind us
But steadfastly before.
We are coming, Father Abraham,
six hundred thousand more!
-- poem printed on the envelope of a Civil War soldier's letter to his parents
---
Enter the Iowa Volunteers Site
---
Links to this site from other Civil War sites are welcomed but please advise me when you establish one.

Louisiana State's United States Civil War Center and Dakota State University's American Civil War sites include links to other letters and diaries as well as other information about the Civil War. The Open Directory Project provides a number of Civil War Links. Civil War Rosters, Iowa Links lists a number of Iowa Civil War sites, including regimental histories, rosters and pensioners' lists.

The Camp Pope Bookshop specializes in in-print titles on the Trans-Mississippi Theater in the Civil War and offers, for a nominal fee, a search service for information on Iowa Civil War soldiers. Civil War albums and lyrics can be ordered at the Civil War Music Store.

Art Source International - Civil War Maps and Antique Maps.

Return to this page after exploring my site and check these sites out.
---
Graphics copyright 1996, 1999, all rights reserved, by Larry Pearson
Most recently updated January 6, 2006
Site designed by Online Design, design@alaska.net