[Home] [Rooms and Rates]
15 Chandeliers B&B Inn
One of Alaska's premier bed and breakfast inns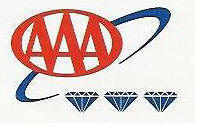 AAA writes "True to this upscale B&B's name, ornate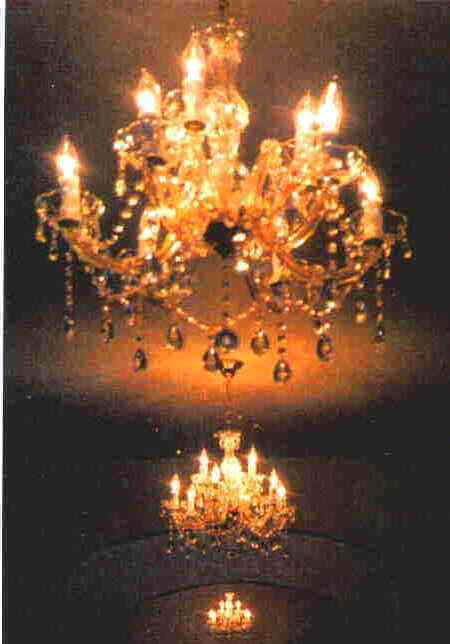 chandeliers light the common areas and guest rooms".
Located in south Anchorage, we are just a 15 minute drive from the airport and downtown.
For the Best "Knight" in town we invite you to see Alaska on your day excursions and stay the night in elegant three diamond comfort. We offer a hearty breakfast buffet style that includes a variety of cereals, juice, coffee, tea, fruit, pastries or muffins and during the Summer season a "chef's surprise hot dish" is also included.

Max, Peggy, and Kaleigh Espeland, Owners and Innkeepers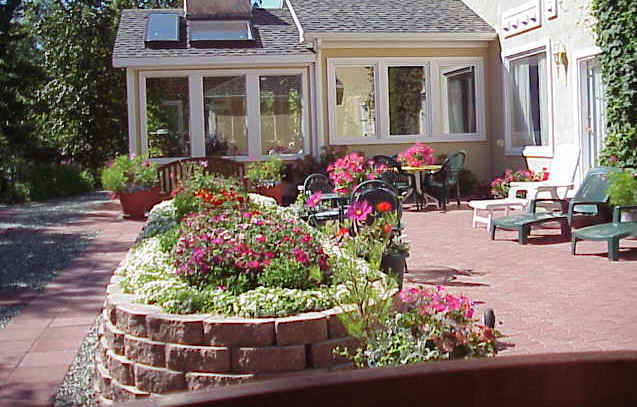 What our guests say:

"What a wonderful home and that is how one is made to feel - at home." Sharon B. Los Angeles, CA

"We relaxed and ate a breakfast fit for a king." Mr. and Mrs. George W. Illinois
"We felt like royalty in our room." Tom and Mary C. - Rogers, AR
"We enjoyed being your guests for five days, the breakfasts were great and the hospitality could not be surpassed!" Bowlin, Seattle, WA.
"Thanks for everything. You were all wonderful & made our stay relaxed, refreshing & enjoyable in every way...we will be recommending 15 Chandeliers to anyone coming this way." The Moons of Royston, GA

"Beautiful place - extremely friendly staff and guests - thank you!" Neil B. NY, NY

"Thank you for the beautiful experience and kind hospitality." Renata & Raymond - Las Vegas, NV

"No doubt your B&B amongst the best of the best!" Vered S. Washington D.C.

"Wow! Had a great time, appreciated all your little extras, great food! Will be back." Barbara and Tom L. Westport, MA

Murder Mystery Dinner Parties can be offered for our winter guests' weekend get-a-way packages. We have several packages to choose from. Call us for more information. Lots of laughs for you and your guests as you try to see "who done it".
Wedding Scenes: Our formal grand hall has been witness to many wedding ceremonies. Sweep down the double winding staircase to meet your waiting groom while your friends and family are speechless from the beauty that is your special day.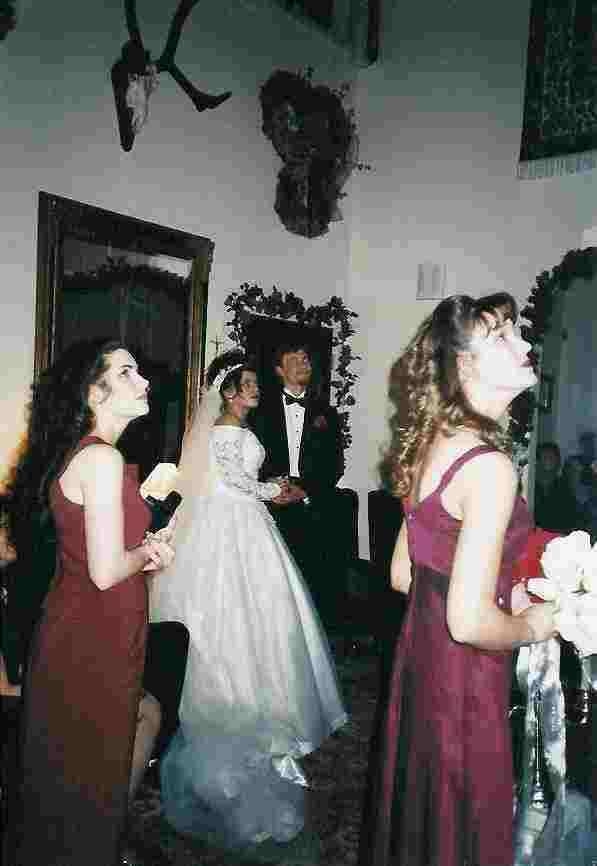 Directions from Airport: Drive east on International Airport Road, turn right onto Minnesota Drive, continue to the Seward Hwy (past the Old Seward Hwy), turn right, continue on the Seward Hwy to the off ramp for DeArmoun Road, turn left at the light, 1/4 mile turn right onto Sabine Street (house is on the corner of DeArmoun Rd. and Sabine St.).
Directions from Seward or Kenai: Driving north on Hwy.1 (Seward Hwy) you will see a "Welcome to Anchorage" sign. Take the first off ramp, then turn right onto the Old Seward Hwy. Drive north for 1/2 mile to DeArmoun Rd and turn right. Continue on DeArmoun Rd another 1/2 mile to Sabine Street. Turn right (we are on the corner of DeArmoun Rd and Sabine St.

Phone: 907 345 3032 - Fax: 907 345 3990 - Location: 14020 Sabine Street - Anchorage, AK 99516
Send mail to chndlr15@alaska.net with questions or comments about this web site.
Last modified: 12/28/04
---
[Home] [Rooms and Rates]