Kenai River
Trophy Rainbow Trout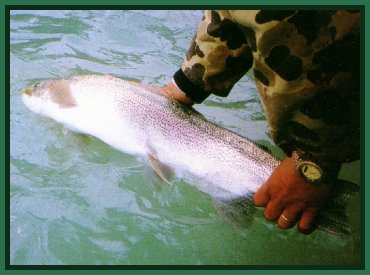 We have Native Rainbows in the eight to twelve pound range and each year trophy fish in the eighteen to twenty pound class are caught. Because we have fishing that makes any fisherman excited, and to keep it that way, catch and release is encouraged so that we may have healthy fish returned to the water. In doing so we know that the Kenai will remain one of the worlds finest fishing rivers.
Cook Inlet Halibut
(World record 466 lbs, taken August 87)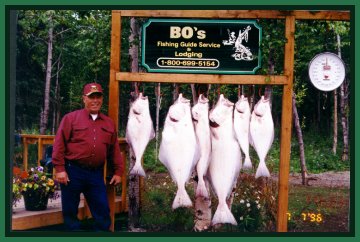 One day of your trip should be spent on a halibut fishing adventure. The average halibut taken from Cook Inlet go from 15-75 lbs. with trophy catches of 100 to 200 pounders caught every day of the season. The season runs May-Sept.