Kenai River King Salmon
(World record 97 lbs. 4 oz taken May 85)
You've dreamed it, now experience it! Test your luck against the fighting king salmon on the world famous Kenai River. It doesn't get any better than this. The Kenai River produces consistently great fighting king salmon that average between 40 and 60 pounds with many topping the scales at 80 pounds each season. Imagine the thrill! Bo's can give you this opportunity!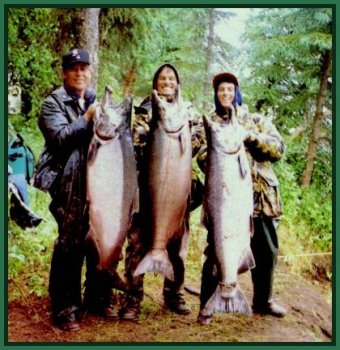 "WOW" 3 · 70+ lb King Salmon. It just doesn't get any better than this!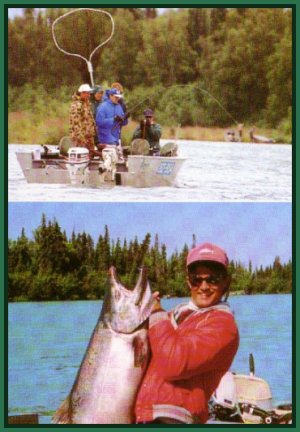 The first appearance of kings in mid may is followed by overlapping runs of silver, sockeye, and pink salmon, extending the season to early October.
The Kenai River produces more trophy King Salmon than any other river in the world. (The Alaska Department of Fish and Game considers a 50 lb. King Salmon to be a trophy sized fish everywhere in Alaska except the Kenai River. You have to catch a 75 lb. King here to qualify!) No doubt about it, anglers set their sights on a world record here on the Kenai River!