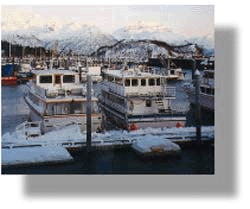 Located in Downtown Valdez Alaska, Bayside RV Park offers the RV owner all the comforts of home, scenery unsurpassed the world over, ticketing for world class sport fishing charters, glacier tours, and various other activities offered in the Prince William Sound Area.
Local gift shops, grocers, museum, and the Valdez Convention and Visitors Bureau are all within walking distance of the park.
Bayside RV Park is situated on a bay of the Sound, on the left side of the highway as you enter downtown Valdez.