Aleckson Fabrication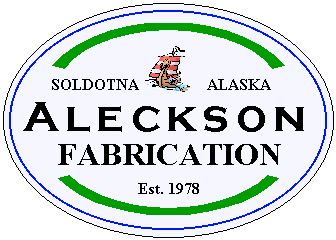 Serving the Kenai Peninsula since 1978


Our Products:
Aluminum Skiffs
Drift Boats
The Halibut Harness
Boat Trailers
Flat Bed Trailers
Snowmachine Trailers
ATV Trailers
Utility Trailers
Snowmachine Sleds
Anything in Aluminum
Wrought Iron Work
Iron Furniture
Wood Stoves
Structural Brackets
Anything in Steel

Our Services:
Aluminum Welding
Steel Welding
Steel & Stainless Arc Welding
Steel & Aluminum MIG Welding
Aluminum TIG Welding
Steel Gas and Spot Welding
Plasma Cutting
Project Design and Layout
Complete Fabrication
Repairs and Renovations
Jet 1430 Lathe
Bridgeport Milling Machine
Aluminum Acid Etching
Lifetime Warranty
Highest Quality Workmanship

Locally owned and operated by
Darrell Aleckson
Contact Us:
Aleckson Fabrication
38735 South Ruby Circle
Soldotna, AK 99669
(907) 262-9654


You can also send an email to:

Where to find us:
Our shop is located next to our residence.
Take Gaswell Road off of K-Beach Road.
Drive 1.2 miles down Gaswell and
take a right on Knutsen Avenue.
Go one block and take a left on South Ruby Circle.
The shop is the first place on the right.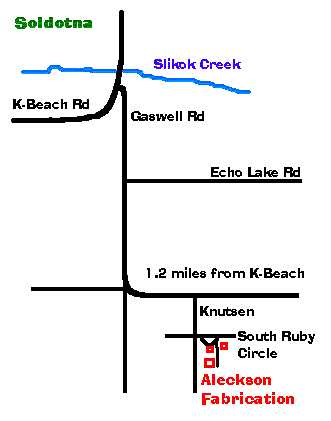 We are normally open from about 9am to 5pm M-F
but we often work evenings and on weekends.
It's always best to call ahead since
we go fishing and sledding sometimes, too.
This site is still under construction!
There will soon be individual pages on
Boats, Trailers, Snowmachine Stuff,
Furniture, Woodstoves, and many
Special Projects we've done over the years!
There will be lot's to see and an
extensive photo gallery is being put
together as well.
Come back often, as this site is
going to be expanding quickly with
lot's of information and tips to help
you select your next boat or trailer.

Last updated on December 22, 2006
Authored by Scott Aleckson
Contact Scott at aleckson@alaska.net


Snowmobile Trailers!
Are you towing over $14,000 worth of snowmachine on a $200 trailer?
Does your trailer have any duct tape or bailing wire on it?
Before your prized machines end up in the bottom of
Dolly Creek on Oil Well Road, call Darrell about getting
yourself into a brand new, custom built trailer
that will outlast your machines and your truck.
A practically bullet-proof 2-place trailer can be yours,
with the features that YOU want starting around $1200.
Stop by and tell us what you're looking for and
we'll show you what we can do to make
trailering a pleasure, not a chore.